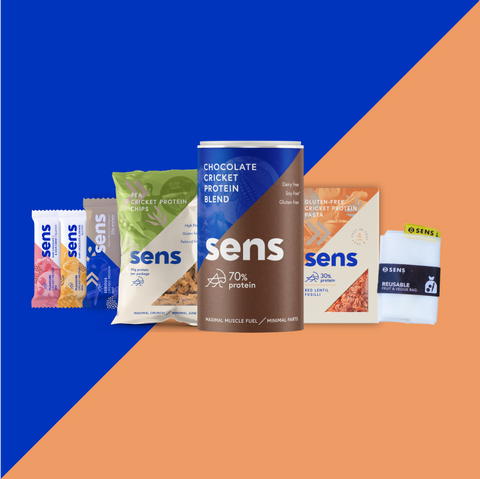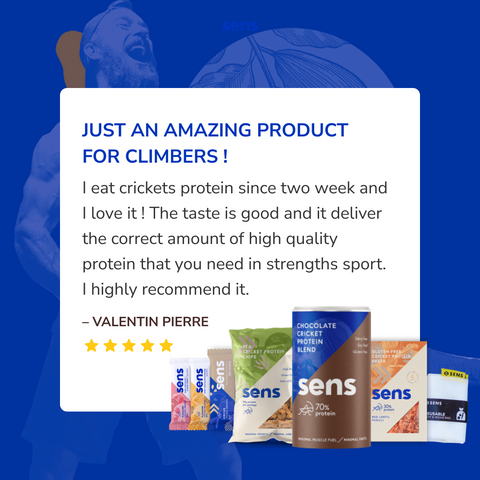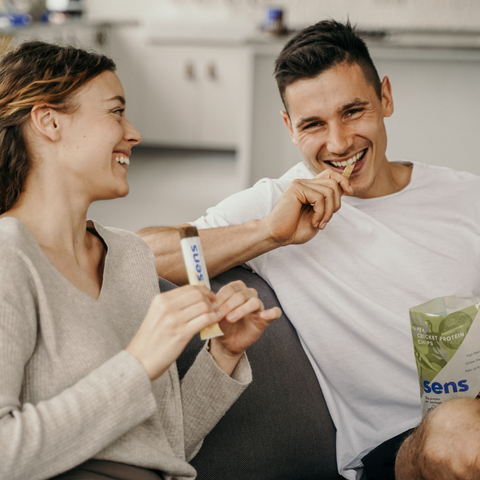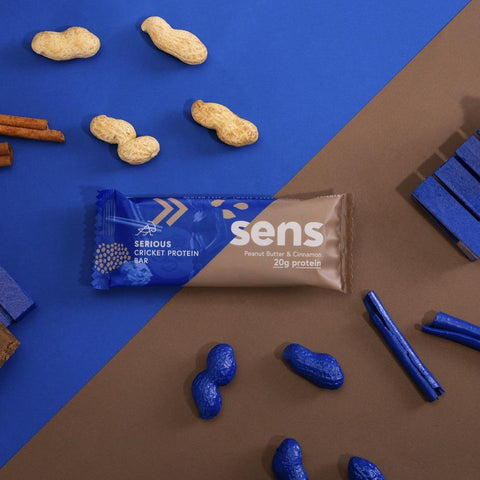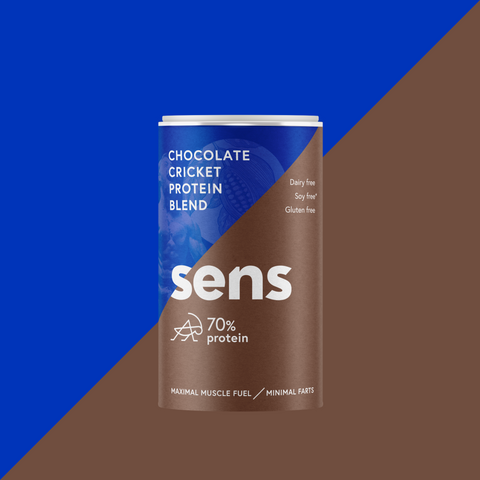 Sens Bestsellers Pack
Functional pack with only the most craved protein products from Sens. Chocolate Blend, Protein Bars, Protein Chips, Pasta.
494,00 kr
594,00 kr
you save 100,00 kr
🚚 Free shipping EU orders over €50

High-quality protein from the best source

Premium ingredients from natural origin

Balanced nutrients, both macro- & micro-

100% sustainable with minimal harm
The best of the best, what's inside?
Maximal nutrition of only the most craved products from Sens. Whether you are new to Sens or you are already passionate about it, you can find all our finest products in this pack.
Includes FREE 3 shopping bags to upgrade your grocery shopping or your visit to your farmers market and make it even more minimal harm.
Serious Cricket Protein Bar | 20g Protein
Seriously tasty protein bars are designed to power up your body after an intense workout or long hike and can be used as a topping to your favorite porridge breakfast to help you start the day. With 20g of sustainable cricket protein in one single bar.

MINI: Serious Peanut Butter 6X
MAXI: Serious Peanut Butter 12X
Pleasure Cricket Protein Bar | 6g Protein
Say no to junk food with our irresistible fruity Pleasure Sens Bars. These juicy bars, got no artificial sugars added. All the taste is coming from natural ingredients like dates, oranges, almonds, cherries, and REAL dark chocolate. Powered with 6g of sustainable protein.

MINI: Orange 5x & Sour Cherry 5x
MAXI: Orange 10x & Sour Cherry 10x
Gluten-free Cricket Protein Pasta
All the benefits from our sustainable cricket protein combined with plant-based protein from lentils in one single bite. This Pasta is unlike others: It has great texture, a slightly spicy flavor, and it's super filling. Cook in boiling water for 4 minutes. Just add veggie sauce! Approved by our Italian customers. Powered with 60g of sustainable protein.

MINI: Cricket Pasta 1X
MAXI: Cricket Pasta 2X
Chocolate Cricket Protein Powder 650g
This easy-to-digest protein drink combines the benefits of plant-based protein (peas and sunflower) with the power of cricket protein in just one product. Made with real cocoa beans, provides extra antioxidants, and is rich in zinc and anti-inflammatory theobromine. It blends well with water and any plant-based milk of your choice. Contains 70% of sustainable protein per scoop.
Gluten-free Cricket Protein Chips
Perfect for a chilling night watching your favorite documentary about sustainability on TV. Expert tip: Sens Chips are also great to dip in Guacamole. Powered with 20g sustainable proteins per package.

MINI: Cricket Protein Chips 1X
MAXI: Cricket Protein Chips 4X
Free Produce Mesh Bags
Fresh produce bags made from recycled PET water bottles. No new plastic was produced in the making of these bags. You can reuse them as many times as you want since they can be washed and reused. Plus, the mesh lets air through so your fruits and veggies can breathe and stay fresh longer. Maximal sustainable shopping, minimal single-use plastic.
Original price: €8,90
Reviews from already convinced innovators. Will you join us?
Sens is full of high-quality nutrients that do not harm the environment that I love so much.
Adam Ondra, World Champion Climber
Expect the unexpected. Sustainable protein and an excellent yummy taste.
Kim Komnenić, Fitness Coach & Influencer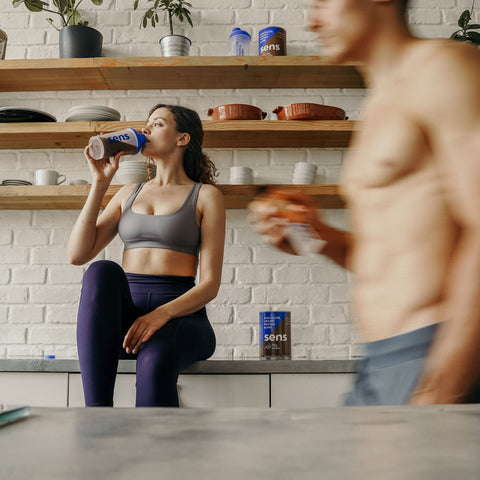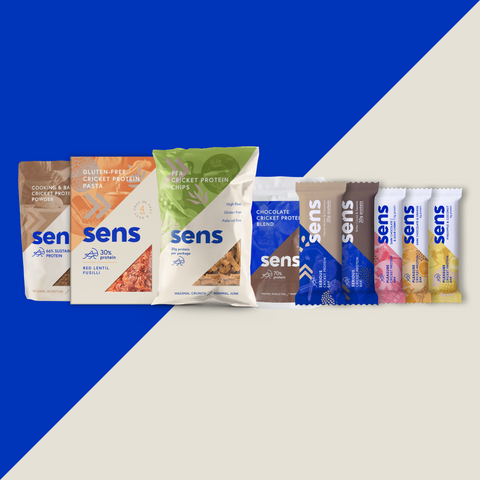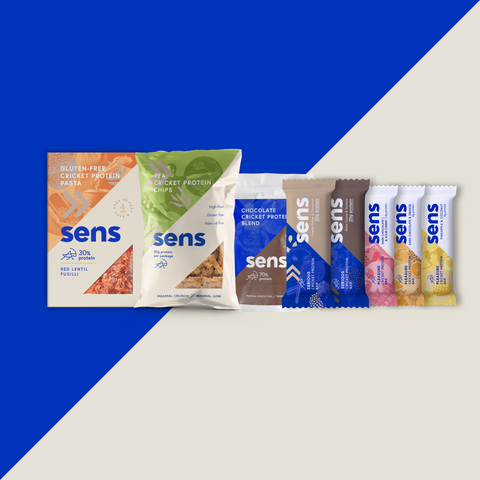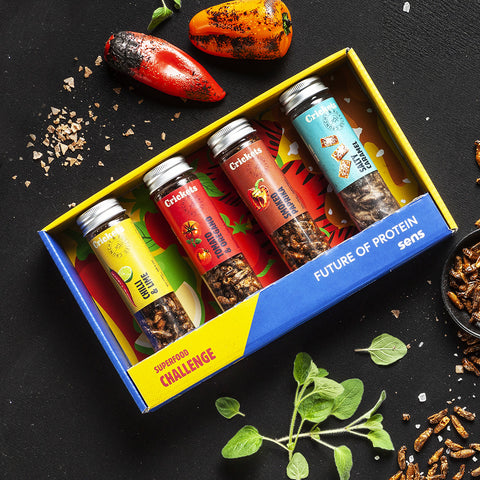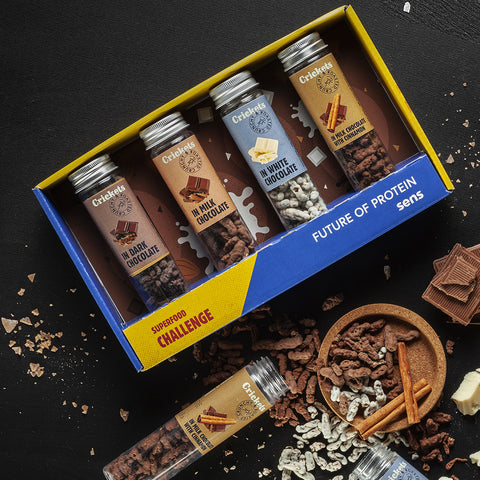 Frequently asked question
Why should I eat crickets?
Simple questions beg for simple answers: to do something good for yourself and the planet at the same time, in an easy and tasty way.
What does sens CHOCOLATE blend taste like?
Plant proteins normally do not amaze with taste. With our CHOCOLATE blend, you will be surprised! The blend has a chocolate taste coming from high-quality cocoa powder and a nice creamy texture! PS: cricket protein only adds a nutritious boost and has no flavor.
Why are sens PLEASURE bars better than regular bars?
Regular snack bars just are not right - nutritionally imbalanced and loaded with simple sugars. They will spike your energy and after an hour you will get hungry and sleepy. Our PLEASURE bars are the opposite - only natural and fruity ingredients, perfectly balanced nutrition, and yet fabulously delicious.
Ingredients and nutritional table
Please refer to the page of each product to read the ingredient list and allergen information.
Sustainable protein
The same quality protein as high-end beef.
100x less CO2 produced.
Cricket protein is our innovative way to get
maximal nutrition with minimal harm.




Bestsellers Pack Sens
Všechno nám moc chutnalo a byli jsme spoko. Určitě budeme objednávat znova! Doporučuji!
Just amazing!!
I got the starters pack, and everything tastes great, from bars to pasta every product has flavour.
Wealthy food and helping the world at the same time.
Recommended
Mini pack
Dobrý večer, právě jsem si vyzvedla balíček od Vás. Jsem moc spokojená. Vaše produkty mi moc chutnají a také potřebuji nabrat svalovou hmotu, takže v budoucnosti si u Vás určitě objednám. Děkuji .Jarošová
Doporučuji
Už jsem vyzkoušela a byla jsem spokojená, proto jsem koupila jako dárek.
Super
Naprostá spokojenost! Brala jsem vše na dovolenou, abych přežila 😀
Positively surprising
I did not expect everything tasting so good, with a minor exception of peanut butter and cinnamon bars. Those although packed with protein, don't taste that great (still edible though).
I will definitely buy again, perhaps without the peanut butter and cinnamon bars.
Nejlepší co jsem kdy jedla
Opravdu chutné už se těším na další ochutnávku dalších produktů.rychle dodání a krásně zabalené.fandím vám ať se daří
Just an amazing product for climbers !
I eat crickets protein since two week and I love it ! The taste is good and it deliver the correct amount of high quality protein that you need in strengths sport. I highly recommend it.
Satisfied
I liked the products taste, in particular the pea cricket chips! Nice job, keep going!
Convincing
Surprising taste, great nutritional component. Cricket is still a fraction of total ingredients but you are on the right path. 5 start for encouragement