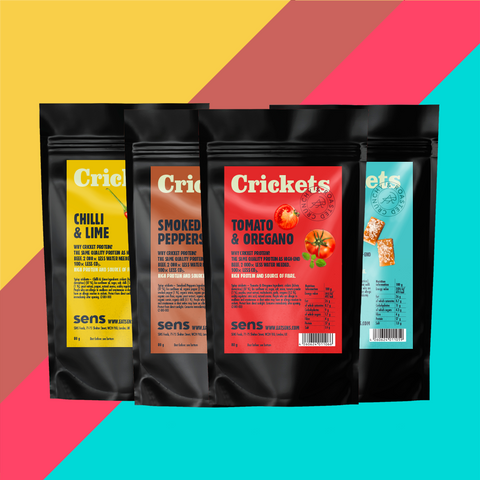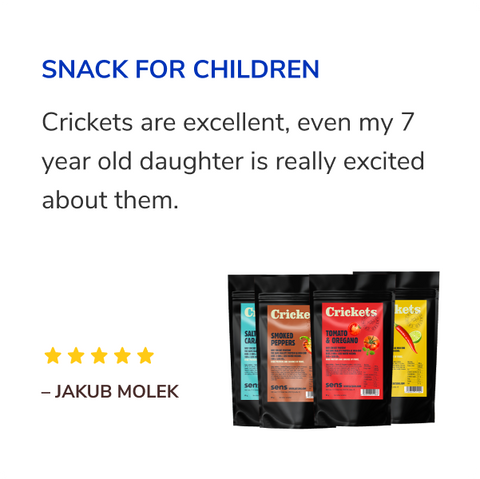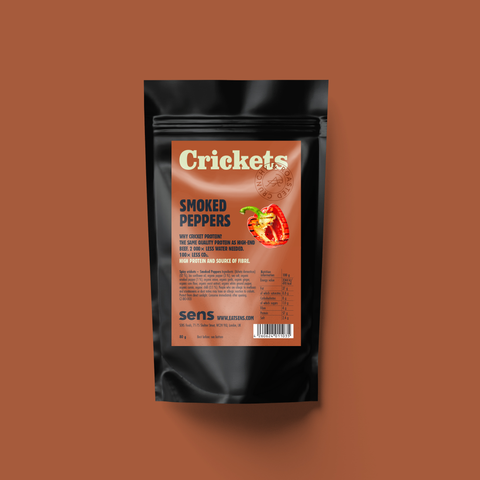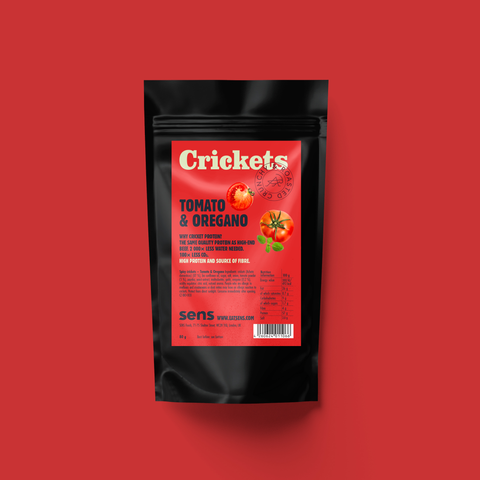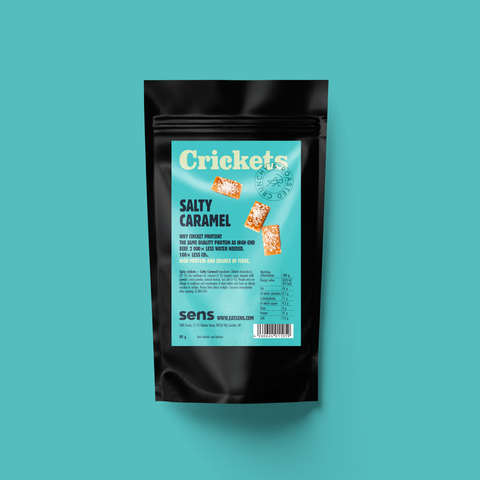 Spicy & Sweet Crunchy Crickets in XXL bag
The food of the future that you can have now already. Enjoy the variety of our Spicy & Sweet crickets. Save with economical XXL pack.

🚚 Free shipping EU on orders over €50.

High-quality protein from the best source

Premium ingredients from natural origin

Balanced nutrients, both macro- & micro-

100% sustainable with minimal harm
Portable snack for on-the-go
A portable snack with long shelf life, making it a great on-the-go option for the office or the cinema, as hiking fuel or a muscle booster. For athletes and people who care about quality protein.
Healthy Protein Snack
From a nutritional standpoint, crickets are a perfect source of protein with 46g per bag. A sustainable source of quality protein, high in vitamins and minerals, including zinc, iron, calcium, and vitamin B12. An easy way to add quality proteins to your diet.
Outstanding Organic Seasonings
The most delicious natural organic spices in combination with cold-pressed organic sunflower oil create a unique selection of delicious crunchy roasted crickets. Snack on our new gourmet flavors: Chilli & Lime, BBQ Pepper, Tomato & Oregano, and Salted Caramel.
Alternative To Jerky For Sustainable Eaters
The word "jerky" comes from the Quechua word "ch'arki" which means "dried meat". Roasted crickets from Sens are an alternative to dried beef with a significantly smaller ecological footprint. Crickets require less feed, less fresh water, no fertilizer, and hardly emit any CO2. In addition, they are nitrate-free.
Buy now our economical gourmet set including one of each 4 flavours and save €5 in your order.
Natural taste from ingredients you can understand





Stock Up & Save 10%
Get yourself enough protein for every occasion, buy edible crickets worth over €40, and get yourself an extra 10% off. Free shipping is included on orders over €50. Discount automatically applied at the checkout. No code is required.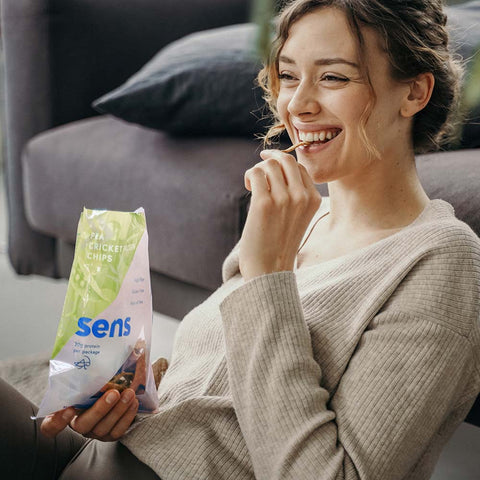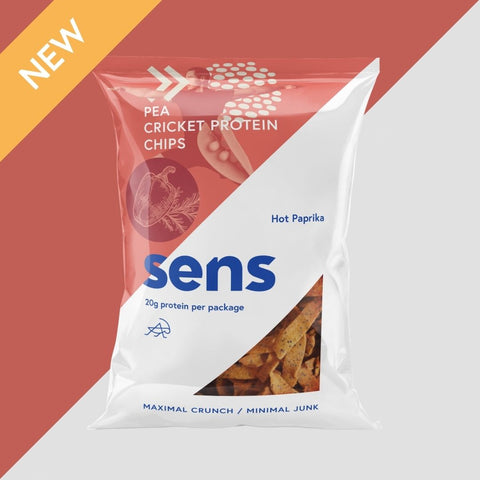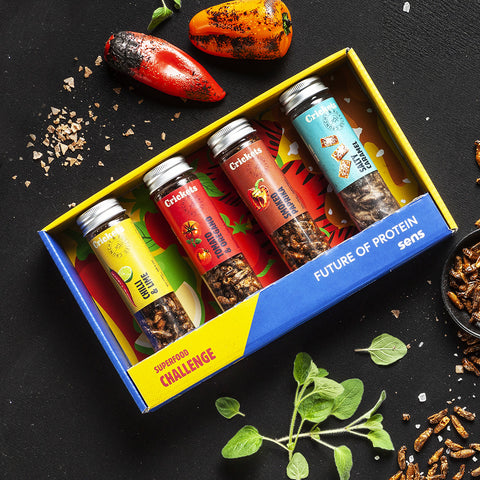 Small bugs with a big mission
Edible insects are an alternative protein source with a minimal impact on the environment. The same quality protein as high-end beef. 100x less CO2 produced.

Support sustainable foods. Join our gang of innovators & food rebels.
Frequently asked question
How to eat roasted crickets?
You can just eat crickets directly instead of chips or nuts. They are popular around the world as a snack with beer or wine. Mexicans also eat crickets as a main dish - chapulinas. Crickets can be sprinkled on salad or risotto for garnish.
How did you choose the ingredients for this product?
We tested the spice mixes for half a year until we found an exciting combination of flavours that our whole team loved! Four unique flavours for those seeking a healthy snack that can be savoury or sweet. The spices and the cold-pressed sunflower oil are both of organic origin so you can enjoy a snack with a minimal impact on the environment.
Why are crickets a healthy snack?
Cricket protein as well as eating whole crickets helps add loads of nutrients to your diet: crickets have more iron than spinach, more vitamin B12 and omegas than salmon, and more calcium than milk. Besides that, thanks to the high concentration of chitin (from their exoskeleton), eating crickets can also help to maintain a healthy gut biome and with it, boost our immune system against external threats. As a plus, there are no GMOs or antibiotics used when raising the crickets. Get a healthy snack and try it for yourself now.
Ingredients and nutritional table
CHILLI & LIME - Ingredients: crickets (Acheta domesticus) (87%), organic cold pressed sunflower oil, sugar, salt, chilli (1.2%), lime (1%), yeast extract, paprika, natural aroma, acidity regulator: citric acid. 
BBQ PAPRIKA - Ingredients: crickets (Acheta domesticus) (87%), organic cold pressed sunflower oil, organic paprika (3%), sea salt, organic smoked paprika (1%), organic onion, organic garlic, organic ginger, organic corn flour, organic yeast extract, organic white ground pepper, organic cumin, organic chilli (0.1%).
TOMATO & OREGANO - Ingredients: crickets (Acheta domesticus) (87%), organic cold pressed sunflower oil, sugar, salt, onion, tomato powder (1%), paprika, yeast extract, maltodextrin, garlic, oregano (0.2%), acidity regulator: citric acid, natural aroma.
SALTY CARAMEL - Ingredients: crickets (Acheta domesticus) (87%), organic cold pressed sunflower oil, caramel (5%) (organic sugar, organic milk powder, cocoa powder, natural aroma), sea salt (1%).
People who are allergic to molluscs and crustaceans or dust mites may have an allergic reaction to crickets. After opening the bag, consume immediately. Store in a cool, dark place. Consume immediately after opening. CZ-BIO-003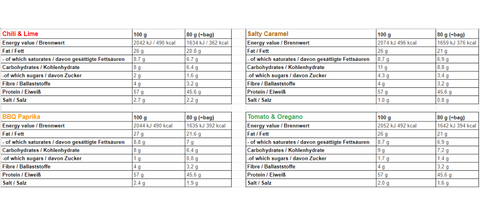 Genialer Geschmack
Mein Sohn und ich sind regelrecht süchtig nach den Grillen mit Paprika Geschmack. Sehr lecker und vor allem gesund.
Best snack!
I can eat this all day! So so good!!
BBQ Paprika a Slaný karamel
BBQ Paprika chutnají celé rodině / Slaný karamel jedině s kombinací bílého jogurtu, bohužel na naše chutě příliš slané
Pražení cvrčci
Koupila jsem je jako dárek pro přítele, moc mu chutnají, nejvíc BBQ Paprika a Rajče & Oregáno. Už je skoro všechny schroustal, tak jsem koupila další ;-)
Křupaví cvrčci
Cvrčky pro mne byly velkou výzvou první balení jsem našla pod stromečkem a musím říct fakt skvělý není co dodat 👌 díkes
Velké balení Pražených cvrčků chilli limetka
Koupil jsem si poprvé pražené cvrčky a čekal až přijdou . Dodání bylo rychlé a ochutnání , předčilo mé očekávání , musím zkusit i ostatní příchutě .
Pražení cvrčci - velké balení
Naprosto úžasní, skvělí... Nevím, jaká superlativa bych dále napsal...
Moc děkuji.
Míla Novotný
Křupaví celí cvrčci
Část cvrčků jsme vzala na včerejší benefiční ples a měla jsem velikánský úspěch. Snědli mi je. Díky
Cvrčci výborný, má 7 letá dcera je z nich nadšená.