Sens Starter Pack
Our best-selling protein-boosted, minimal-harm favorites. Think Peanut Butter Protein Bars, Chocolate Protein Blend, and Gluten-free Pasta. Jump into sustainable protein!

UPDATE 09/23: Strawberry protein blend is sent instead of Chocolate blend to stock out.

High-quality protein from the best source

Premium ingredients from natural origin

Balanced nutrients, both macro- & micro-

100% sustainable with minimal harm
Starter pack, what's inside?
Starter pack to your sens experience! Whether it's a sweet craving chocolate protein bar or meal-worthy, gluten-free pasta.
Serious Cricket Protein Bars
Peanut Butter & Cinnamon 1x
Bitter Cocoa & Sesame 1x

Seriously tasty protein bars, designed to fuel and re-energise your body. Packed full of high quality cricket protein our bars have a soft consistency with a natural taste.
Pleasure Cricket Protein Bars
Pineapple & Coconut 1x
Dark Chocolate & Orange 1x
Dark Chocolate & Sour Cherry 1x

3 tasty fruity flavours that will surely satisfy any craving. Pick one up on your way to the gym or slip one into your bag for a sweet afternoon treat.
Gluten-free Cricket Protein Chips
Perfect for a chilling night watching your favorite documentary about sustainability on TV. Expert tip: Sens Chips are also great to dip in Guacamole. Powered with 20g sustainable proteins per package.

MINI: Contains Cricket Protein Chips 1X
MAXI: Contains Cricket Protein Chips 4X
Mini Chocolate Cricket Protein Powder
One serving 35g

A premium blend that combines high quality cricket protein with a chocolate taste to make a smooth easily digestable smoothie.
Gluten-free Cricket Protein Pasta
Enjoy an easy pasta dish in under 4 minutes. Cook with your favourite pasta sauce for a quick meal full of protein that will leave you feeling full.
Cooking & Baking Cricket Protein Powder
Add just 2 tablespoons to any of your favorite recipes or bakes and turn them into a protein-rich meal or snack just like that!
Natural taste from ingredients you can understand







Reviews from already convinced innovators. Will you join us?
Sens is full of high-quality nutrients that do not harm the environment that I love so much.
Adam Ondra, World Champion Climber
Expect the unexpected. Sustainable protein and an excellent yummy taste.
Kim Komnenić, Fitness Coach & Influencer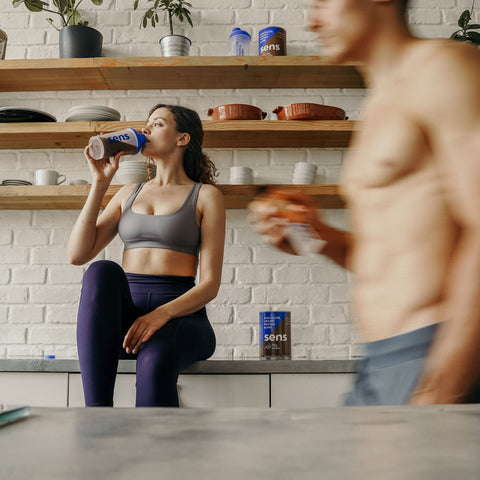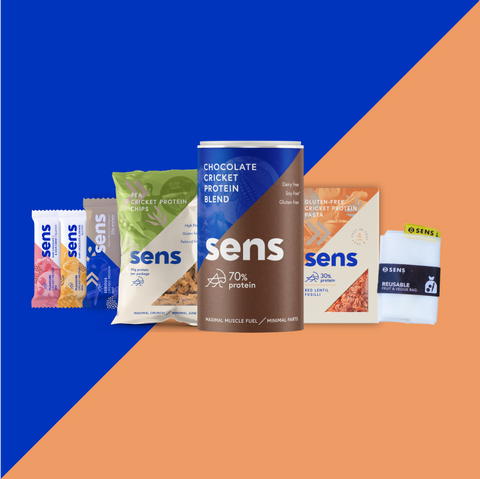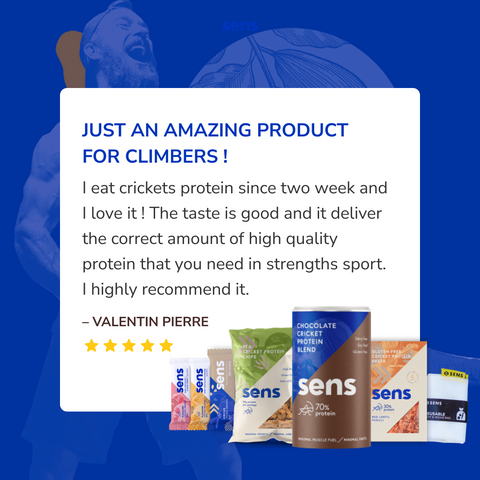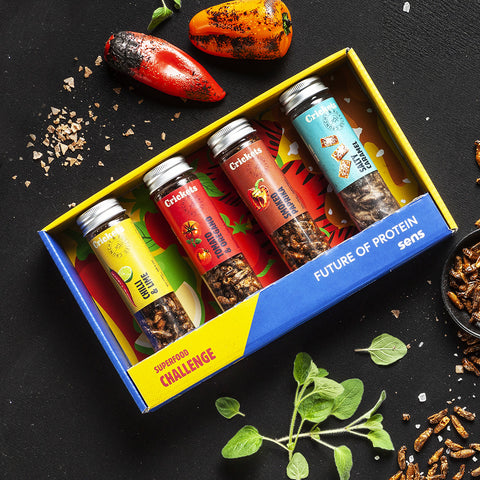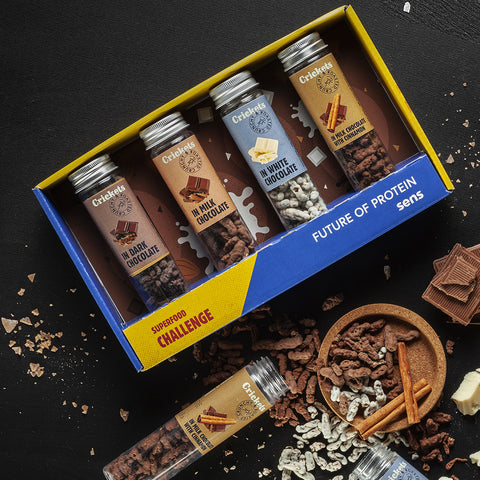 Frequently asked question
Why should I start with cricket protein?
Simple questions beg for simple answers: to do something good for yourself and the planet at the same time, in an easy and tasty way. Maximal nutrition, minimal harm.
How does cricket flour taste like?
You'll probably be surprised. If you try cricket flour by itself it has actually a rather mild taste, with some nutty and earthy notes to it. That's why even Michelin star chefs are using it, to increase nutritional benefits of their meals, without altering the taste too much.
What ingredients do you use in your products?
Please refer to the page of each product to read the ingredient list and allergen information.
Sustainable protein
The same quality protein as high-end beef.
100x less CO2 produced.
Cricket protein is our innovative way to get
maximal nutrition with minimal harm.




Überraschend gut
Eine richtig gute Auswahl an Produkten und echt lecker. Vor allem die Chips und Nudeln sind toll und kommen auch bei meinen Freundinnen gut an.
sens Starterpaket
Die großen 60g Riegel waren ausgesprochen lecker und gar nicht süß, was ich toll finde, sie sättigen gut. Die kleinen 40g Riegel waren auch ok, etwas zu wenig Grille drin und zu süß. Die Nudeln waren sehr lecker und machen über den ganzen Tag hinweg satt, super. Auch der Proteinshake war nicht so süß wie normale und wirklich lecker (mit normaler Kuhmilch). Die Chips waren nach den ersten Bissen erstaunlich lecker und würzig, nur nach 10 Chips und 20 Sekunden Wartezeit bildete sich im Mund ein etwas ekliger Nachgeschmack. Komischerweise war der bei meinem Freund kaum da. Würde die Produkte immer wieder kaufen, wenn sie nicht so teuer wären...
Starter Pack
Its the best way to find what you like and maybe what is not your cup of tea. For me personally Pasta is the best, because all the bars are just to tasty to eat just one and its more like a dessert than real food portion :). Of-course if you have better will than I you can store them for longer time. Talking about bars - Peanut Butter & Cinnamon are my favourites.
Deliciously Sustainable
I've always wondered how insects taste and few years ago I had the chance to try. Since then, I've read and explored cultures to understand where insects are consumed and their benefits. It seems they have many benefits and not just to human's health, but also for the environment. I think the starter pack is perfect for somebody like me curious about new type of food, who cares about his/her own health and the environment. I must say that everything I tried was at least good and some even better. I was positively surprised by the pasta because it has almost the same texture of the wheat flour pasta (something really hard to replicate and I've never seen in any other no-wheat flour pasta). The cricket bars are also good, but I think what really stands out is the chips. I need to order more :D
The magic is in the experience
And when the experience is so good, so indistinguishable from other products, yet so much richer in protein, well, that's the recipe for success! I've only tried the bars, for now, and I'm happy with the taste options, hoping that more flavours can be added over time. I can't wait to try the pasta and snacks! When you really think of what they do, it really makes SENS!
Test starter pack
I've eaten crickets and other insects before. These were absolutly with the best of them regarding taste, variaty and appearence. Loved them all !
Schöne Probiergröße
Tolle Box, um die verschiedenen Produkte auszutesten.
Preislich muss sich vermutlich noch etwas tun, um für die breite Masse relevant zu werden.
Die Serious Riegel schmecken ziemlich fad, während die Pleasure Bars sehr schmackhaft sind (der Name ist jeweils Programm).
Bei Blindverkostungen schmeckt niemand etwas "insektiges" heraus.
Meiner Meinung nach ist das Starter Pack zu empfehlen.
Would repurchase most if not all of the products!
What I like the most about all the products are the ingredients. Not just the cricket flour, but also all the plant ingredients that went into the products. I like that in the pasta, the other ingredient besides the cricket flour is red lentil flour, which is also a healthy and nutritious ingredient in its own right. Same goes for protein bars and crackers. I love, for example, that instead of added sugar or corn syrup, the protein bars have dates to add sweetness to them. I also really liked the selection of seeds in the ingredient list on the crackers.
Both the Pleasure and Serious protein bars are really tasty and filling. My favorite was Peanut&Cinnamon. I'll definitely order them again!
I liked the pasta, not soggy or chewy, it behaves really well. Of course it is not as neutral in flavor and texture as the regular plain white flour and it feels a bit more powdery/grainy, but it is very similar to other whole grain pasta and it's a great midweek dinner base. I will definitely order it again, as I especially appreciate the protein amount in this product.
The crackers were ok. I liked the nuttiness and the spice mixes, but I didn't like the texture in the mouth - they become a bit sticky and gooey. It is still a nice afternoon snack and I like the ingredient list so much that I will probably order them again nonetheless :) But as far as the product development goes, I hope they manage to improve this product, if possible.
Protein powder is also ok and I will prefer it over whey protein powder in the future.
So, overall, I like the ingredient lists of all products, I love the flavor and texture of most of the products and I will definitely reorder most, if not all of them. Most importantly, I support the concept behind the products, so the product gets 5 stars.
Great starting point
Wanting to try sens for the first time, this was a great way to go. You get everything so you see what you like. I like the products, they are really nice tasting for me. My gf is reluctant to try, but thats her problem :)
Tasty and nutritious
I was pleasantly surprised by the taste of all the products. And since they are very nutritious, they combat hunger very well. Will definitely buy more.