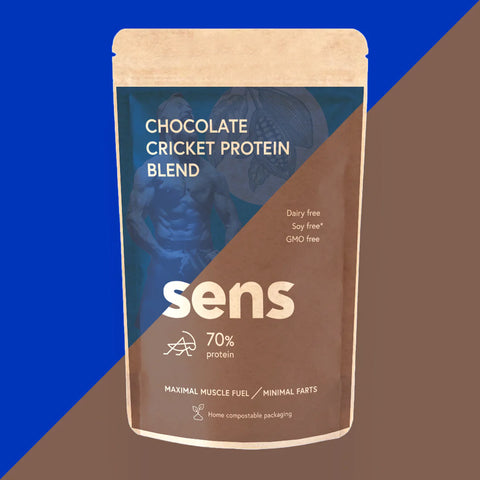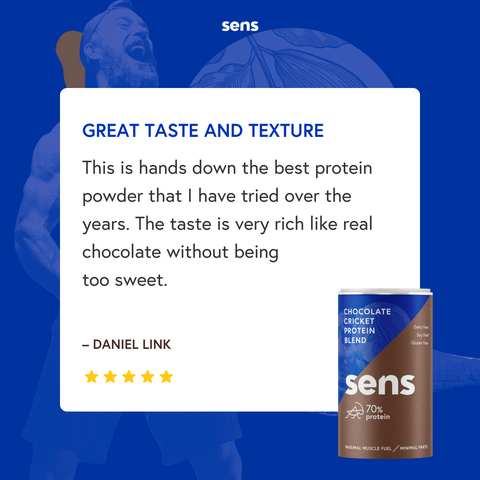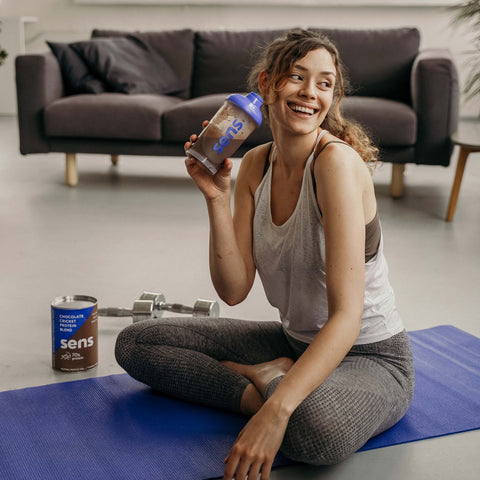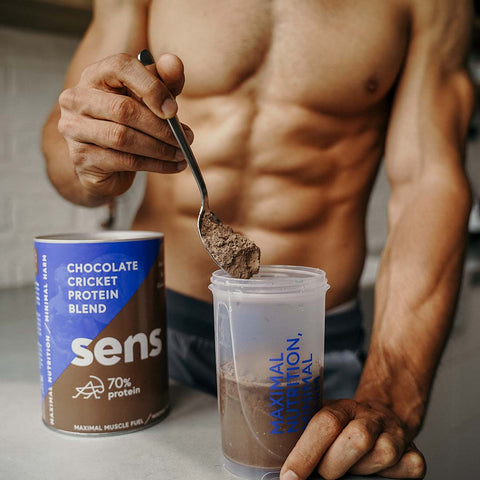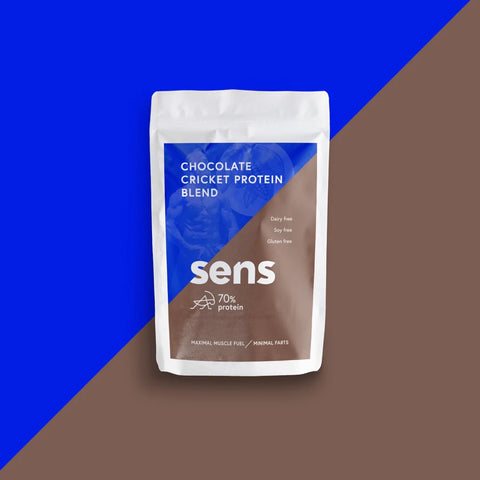 Chocolate Cricket Protein Blend
More nutritious than whey and sustainable. Creamy, delicious, soluble... Give your shaker only the best!
More ecological 455g packaging 🌱
🚚 Free shipping EU on orders over 50€
Ingredients & Nutritional Values
Pea protein, defatted cocoa powder (15%), cricket flour (Acheta domesticus) (10%), sunflower protein, thickener guar gum, sunflower lecithin, chocolate aroma (0.5%), salt, sucralose.
People who are allergic to mollusc and crustaceans or dust mites may have an allergic reaction to crickets. *May contains traces of soy.


High-quality protein from the best source

Premium ingredients from natural origin

Balanced nutrients, both macro- & micro-

100% sustainable with minimal harm
Maximum strength, minimum farts
This easy-to-digest protein drink combines the benefits of plant-based protein (peas and sunflower) with the power of cricket protein in just one product. Made with real cocoa beans, provides extra antioxidants, and is rich in zinc and anti-inflammatory theobromine. It blends well with water and any plant-based milk of your choice. Contains 70% of sustainable protein per scoop.
Plastic-Free
There's no other blend like this on the whole planet. We invested in creating the first planet-friendly tube packaging, including not only a recycled paper tube but also an aluminum lid (top and bottom). In addition, all our orders have plastic-free shipping, without unnecessary wraps and even plastic tape. For us, details matter!


Natural taste from ingredients you can understand





Reviews from already convinced innovators. Will you join us?
Sens is full of high-quality nutrients that do not harm the environment that I love so much.
Adam Ondra, World Champion Climber
Expect the unexpected. Sustainable protein and an excellent yummy taste.
Kim Komnenić, Fitness Coach & Influencer
Frequently asked question
Why is Sens CHOCOLATE blend better than regular protein blend?
Regular protein shakes contain many ultra-processed additives, sweeteners or a lot of sugar. The most usual protein source - whey - comes from milk from factory farming and oftentimes contains questionable residues. Some people have problems digesting whey protein and experience symptoms such as bloating, gas, etc. Plant proteins are not rich in amino acid spectrum and do not contain vitamin B12 and other micronutrients. Sens Protein Blends are the perfect combination of plant and cricket protein with the optimal amino acid spectrum for great digestibility. Moreover, cricket protein is rich in fibre, B12, and iron.
What does Sens CHOCOLATE blend taste like?
Plant proteins normally do not amaze with taste. With our CHOCOLATE blend, you will be surprised! The blend has a chocolate taste coming from high-quality cocoa powder and a nice creamy texture! PS: cricket protein only adds a nutritious boost and has no flavor.
How did we choose the ingredients to make this product?
We used just the right amount of sweetener to emphasize the chocolate flavour. At the same time, we made sure it wasn't too sweet. We also combined several plant-based protein sources: Pea, sunflower, and cricket protein. This gives the protein powder a complete amino acid profile, great taste, and smooth texture. Maximum protein, minimum sugar.
Sustainable protein
The same quality protein as high-end beef.
100x less CO2 produced.
Cricket protein is our innovative way to get
maximal nutrition with minimal harm.




Complete your protein routine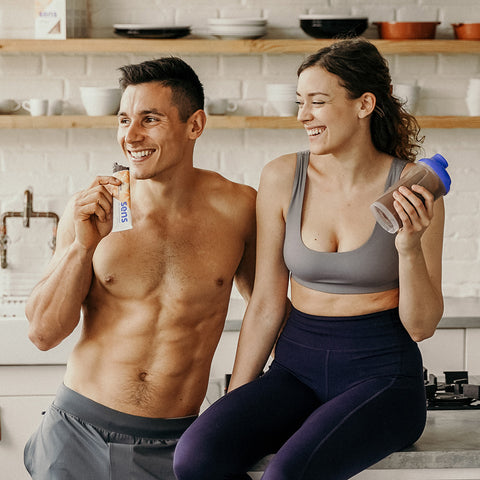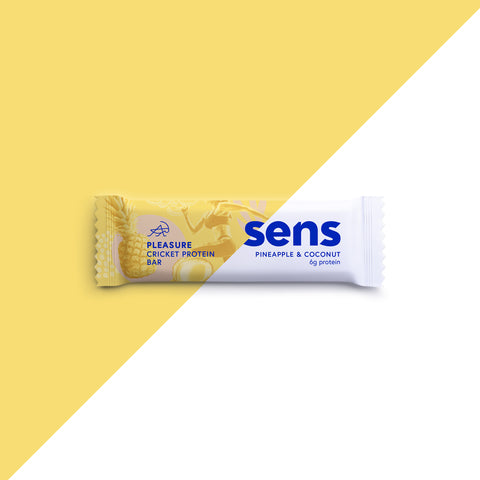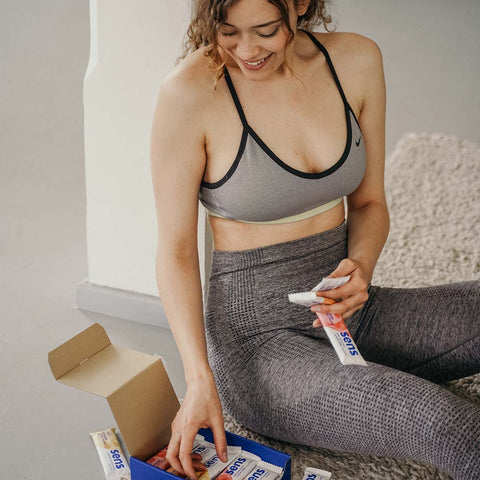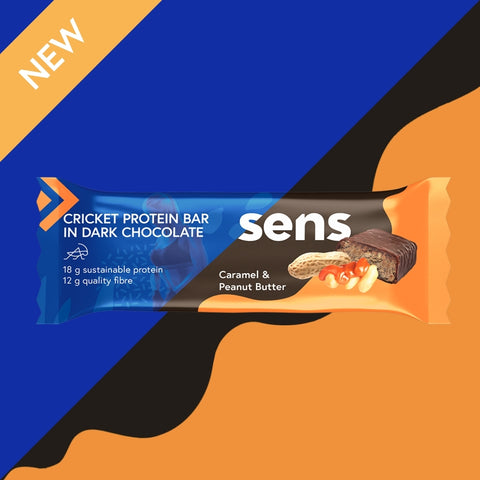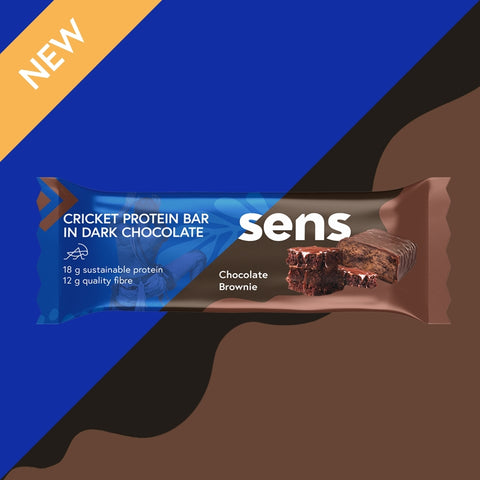 V soucasne dobe bezkonkurencne nejlepe chutnajici produkt na trhu. Navic je prekvapive dobre rozmichatelnej. Kloboucek.
All time fav
Yay to the super sustainable chocolaty crickety protein! Been using it for a couple of years now, aint gonna stop any soon
Sehr lecker!
Nicht so süß wie andere Hersteller
Great product!
Easy to digest and really tasty. Personnally I'd love to try a version with no added flavour.
Sehr zufrieden
Geschmacklich super, sehr gute Löslichkeit, Preis-Leistung sehr gut
Schmeckt super und löst sich gut auf
Soweit alles bestens. Die Bestellung und Lieferung ist super gelaufen und das Produkt ist super.
Nechapu, kdo na to naleti.
Laciny, nehodnotny a nevyuzitelny hrachovy protein z desetiny obohaceny o cvrcci mouku? A vy to nazvete cvrcci protein? Delate si z lidi legraci?
Čokoládový protein
Výborný proteinový nápoj! Super konzistence i chuť. Moc mi chutná, že není přeslazený.
Jeden z naj proteinov co som mal
Chut a textura tohto proteinu je za mna top.