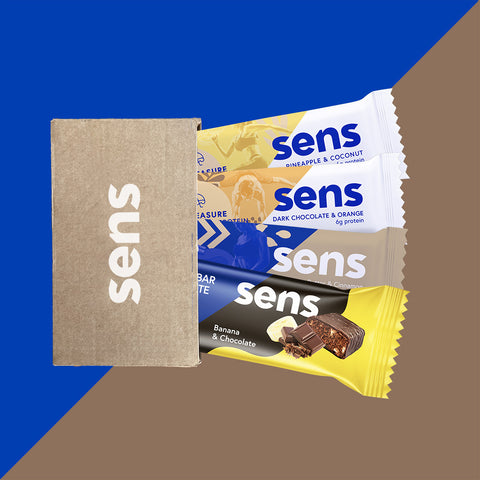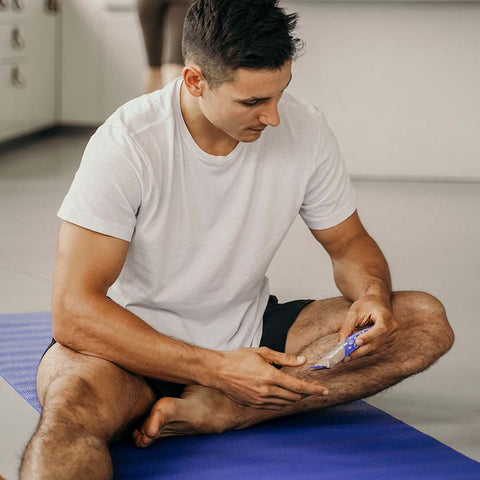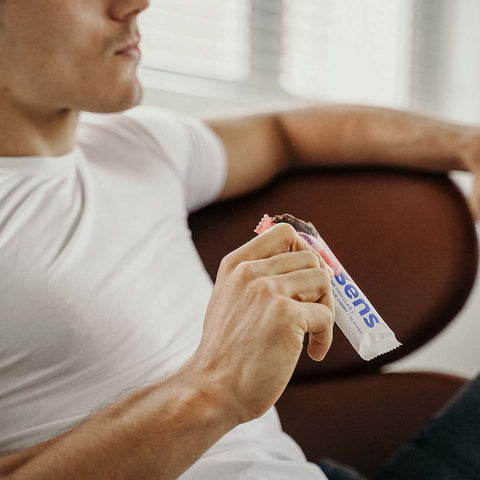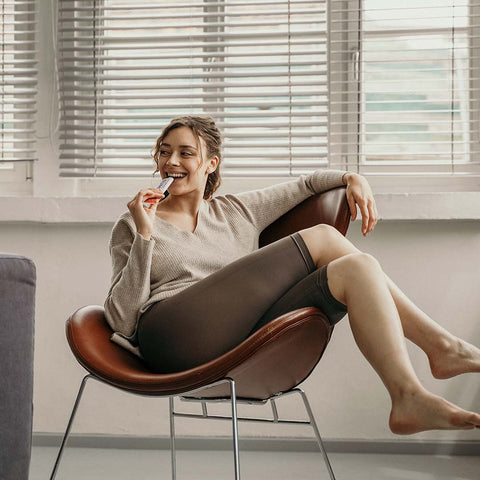 Taster pack of the most delicious Sens bars
You don't know Sens bars? Try all three of our protein bars: 'Pleasure' and 'Serious' and 'Chocolate'. We've selected four of the most delicious.
CHF 9.00
CHF 10.00
you save CHF 1.00
Get a 15% off on healthy snacks until the 10.09 with the code: BackToSchool
🚚 Free shipping EU orders over €50.

High-quality protein from the best source

Premium ingredients from natural origin

Balanced nutrients, both macro- & micro-

100% sustainable with minimal harm
The four most delicious Sens bars
We have three types of bars, six flavours in total, and we've chosen the four tastiest protein bars for you. Each of our protein bar types, whether SERIOUS, PLEASURE or IN CHOCOLATE, serves a slightly different purpose. Try which one suits you best!

Cricket protein bar in dark chocolate with 20g of protein
This is the most delicious cricket protein in the world! We might as well call it dessert. But this dessert has 20g of high quality protein with no artificial flavourings just natural chicory fibre.

The package contains:
1x 63g Banana & Chocolate
SERIOUS protein bars with 20g of protein
Our cleanest protein bars. Maximal protein, minimal bullshit. High content of quality proteins will regenerage your muscles after intense workout or a long hike.

The pack contains:
1x 60g Peanut Butter & Cinnamon
PLEASURE protein bars with 6g of protein
With our fruit bars you will forget about all the over-sweetened unhealthy junk. All the flavour comes from natural ingredients like pineapple, dates, almonds, cherries or dark chocolate.

The pack contains:
1x Pineapple & Coconut
1x Dark Chocolate & Orange
Natural taste from ingredients you can understand









Reviews from already convinced innovators. Will you join us?
Sens is full of high-quality nutrients that do not harm the environment that I love so much.
Adam Ondra, World Champion Climber
Expect the unexpected. Sustainable protein and an excellent yummy taste.
Kim Komnenić, Fitness Coach & Influencer
Frequently asked question
Why jump into cricket protein?
Simple questions call for simple answers: do something good for yourself and the planet, in an easy and tasty way. Maximum nutrition, minimum impact on the planet.

How does cricket flour taste?
You'll probably be surprised. The cricket flour itself actually has a mild flavour with nutty and earthy notes. That's why it has found its way into the kitchens of Michelin-starred chefs, to improve nutritional value without significantly changing the taste. Our products thus taste more like the other ingredients we add to the product.

Ingredients and nutritional table
Sustainable protein
The same quality protein as high-end beef.
100x less CO2 produced.
Cricket protein is our innovative way to get
maximal nutrition with minimal harm.




Tyčinky
Byl to dárek, tak snad dobrý.
chutný balíček
Balíček výborných tyčinek, co dodat, dobrý výběr pro první nákup, i opakovaný nákup, pokud chcete balíček více příchutí a neradi sami vybíráte /jste nerozhodní.
Tyčinky od Sens mám nejradši, beru si je na výlety, turistiku i do posilovny a na lezení... chutnají mi všechny příchutě a neumím si vybrat, tak, dokud nebude k nákupu nějaký random výběr, kupuji "výběr nejchutnějších".
Opět není co dodat skvělý produkt jak na cesty, nebo jen tak prostě pecka 👌
The best way to be hooked with Sens
This is really the best way to learn about sens and discover what you might like the most. The new flavour is just the best I've tried from them and I highly recommend!
Yummy!!!
Very tasty protein bar, highly recommended!
Sens Bar Experience
Asi nejlepší energetické tyčinky, doporučuji. Super zvolené kombinace chutí.
Startovací balíček Proteinovky 5x
Startovací balíček je "špatně", je to hrozně M Á L O!!!!
Držím se, abych snědla denně jen jeden kousek a jsou to nervy, se udržet. Vždyť mám taky vnoučata, která se vrátí z prázdnin a já jim musím nechat ochutnat. Mám veliké štěstí, že jsem tyčinek objednala více.
Toto je moje rádoby vtipné ohodnocení, je to moc moc dobré.
Super akce
Výborně namixované, vybrala si celá rodinka :-)
Hustá
... a musí se proto průběžně zapíjet. Pokud by šla udělat méně suchá/drobivá a trochu stravitelnější, tak supr s hvězdičkou. Možná, že by bylo lepší jí udělat odlamovací po kouskách jako tabulku čokolády, sníst v kuse se opravdu nedá.