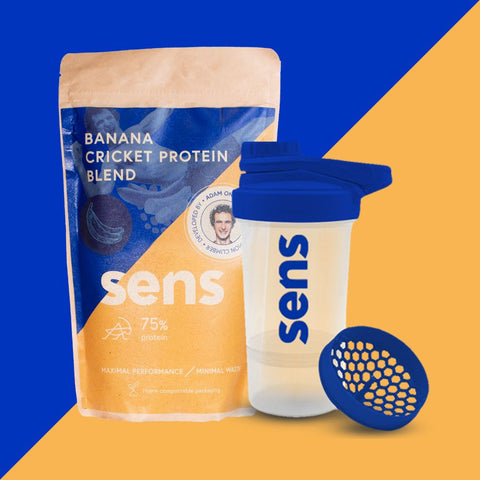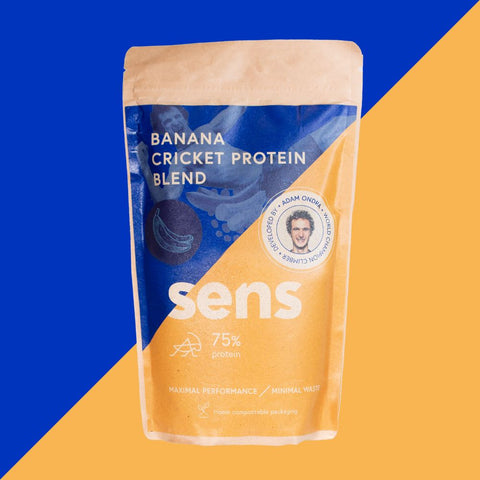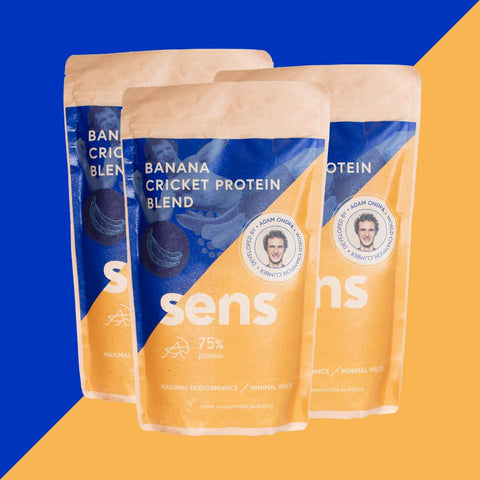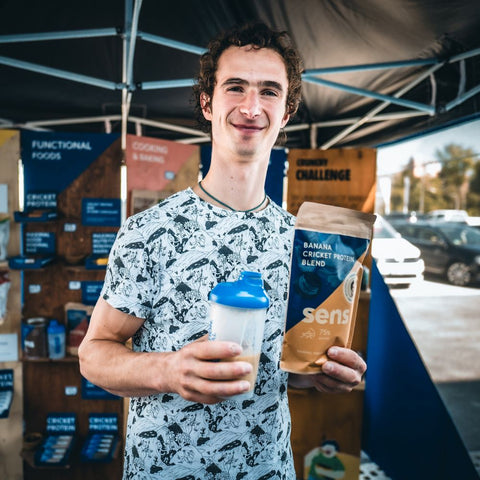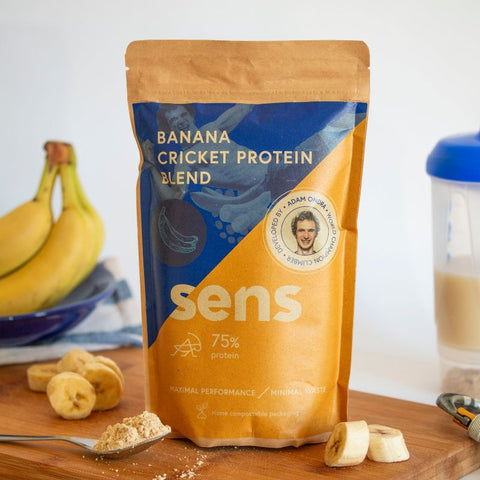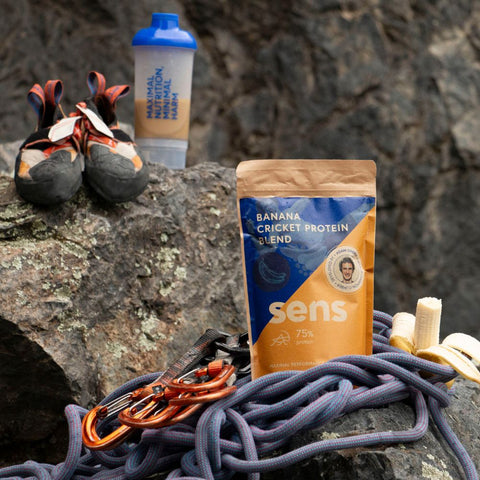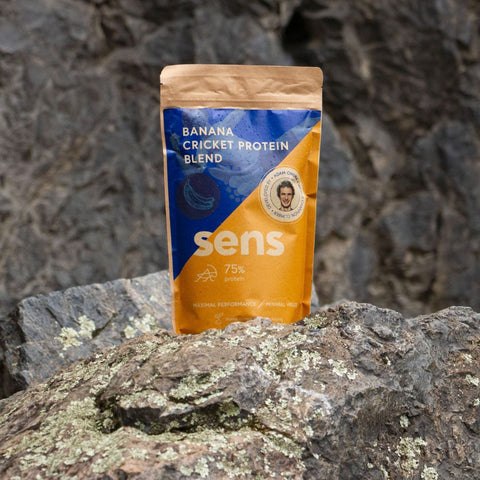 Banana Cricket Protein Blend x Adam Ondra
Delicious, creamy and highly nutritious protein drink with natural banana flavour developed with the professional climber Adam Ondra. Enjoy it as a healthy, protein-rich, nutritious snack or as post-workout energy boost.
✔ Real lyophilised bananas
✔ 75% protein
✔ Easy to digest
🚚 Free shipping EU on orders over 50€

High-quality protein from the best source

Premium ingredients from natural origin

Balanced nutrients, both macro- & micro-

100% sustainable with minimal harm
Maximal performance, minimal waste
This easy-to-digest protein drink combines the benefits of plant-based protein (peas and sunflower) with the power of cricket protein in just one product. Made with real freeze dried bananas for an extra source of fiber. It blends well with water and any plant-based milk of your choice. Contains 75% of sustainable protein per scoop.
Developed in collaboration with AO
This banana protein blend was created in collaboration with Adam Ondra. Our partnership came out of a shared passion for sustainable nutrition.
Besides a fierce protector of nature Adam Ondra is an elite climber. Among his many achievements belong competing in the Olympics, ascending the Dawn Wall, winning world titles in several disciplines, sending a 9C the hardest route ever to be climbed and many, many more.
Elevated Eco-Packaging
A unique product with extraordinary sustainable packaging. It is 100% home-compostable in only 60 days! The packs are made of Japanese craft paper and home-compostable biopolymers. Their eco-labels are made of grass and we print on them with bio-based colours. And there's more! The glue is made from sugar cane residue. We don't just stop at industrial composting, if we can we go further!
Natural taste from ingredients you can understand




Reviews from already convinced innovators. Will you join us?
Sens is full of high-quality nutrients that do not harm the environment that I love so much.
Adam Ondra, World Champion Climber
Expect the unexpected. Sustainable protein and an excellent yummy taste.
Kim Komnenić, Fitness Coach & Influencer
Frequently asked question
Why is Sens BANANA blend better than regular protein blend?
Regular protein shakes contain many ultra-processed additives, too much sweeteners or a lot of sugar. The most usual protein source - whey - comes from milk from factory farming and oftentimes contains questionable residues. Some people have problems digesting whey protein and experience symptoms such as bloating, gas, etc. Plant proteins are not rich in amino acid spectrum and do not contain vitamin B12 and other micronutrients. Sens Protein Blends are the perfect combination of plant and cricket protein with the optimal amino acid spectrum for great digestibility. Moreover, cricket protein is rich in fibre, B12, and iron.
How does Sens BANANA blend taste like?
Like the creamiest banana milkshake. Don't believe us? Try it yourself with oat milk. There is real lyophilized banana which you can taste on tongue!
PS: cricket protein only adds a nutritious boost and has no flavor.
How did we develop the BANANA protein blend with Adam Ondra?
Adam has been a fan of Sens protein blend from the start. And Adam kept asking for more flavours so we had to act. Together, we tried many different variations and in the end developed two flavours. Those two flavours we sent for testing to Adam's fans to decide, which will become Adam's own protein blend. The people and Adam has spoken, Banana won. Great taste, texture and clean ingredients with real lyophilized banana convinced us all!
Maximum performance, minimal waste!
How to use the Sens BANANA blend?
Make it creamy and delicious by mixing 2 heaping tablespoons of protein powder with 250 ml of water. For extra yumminess, we suggest using almond milk. Don't like clumps in your shake? No problem! Use a Sens BPA-free shaker, which includes a strainer to fully dissolve the powder into your drink. Available as a set for only 24.99€.
Ingredients & Nutritional Values
Ingredients: Pea protein, cricket flour (Acheta domesticus) (10%), sunflower protein, freeze-dried banana powder 2.5%, natural banana flavouring 1%, colour - beta carotene, thickener - guar gum, sunflower lecithin, chicory fibre, sweetener sucralose.
People who are allergic to mollusc and crustaceans or dust mites may have an allergic reaction to crickets. *May contains traces of soy.

Sustainable protein
The same quality protein as high-end beef.
100x less CO2 produced.
Cricket protein is our innovative way to get
maximal nutrition with minimal harm.




Complete your protein routine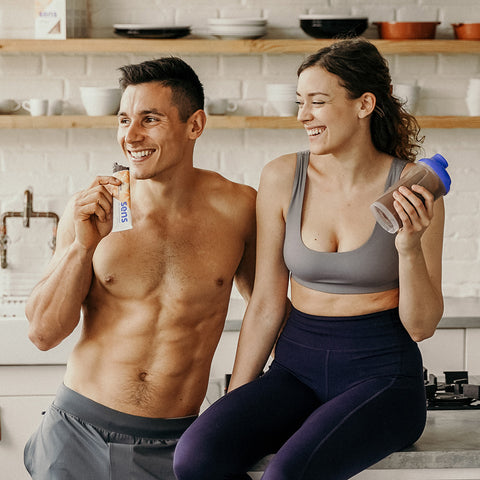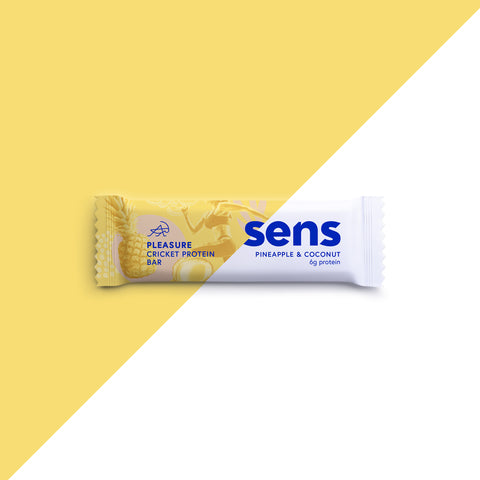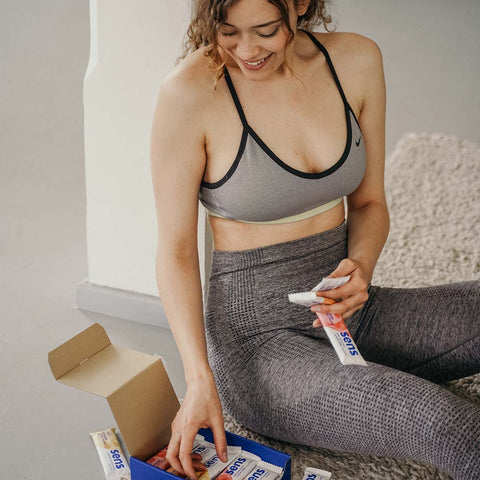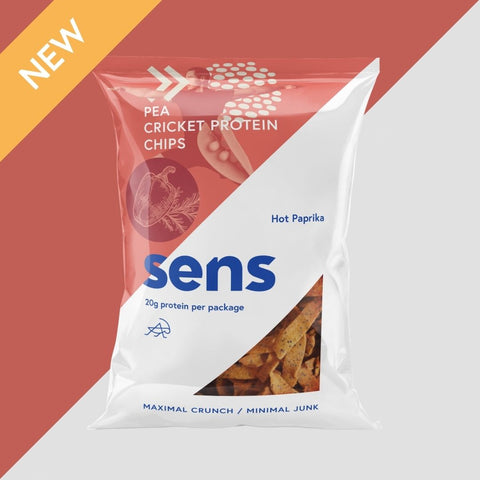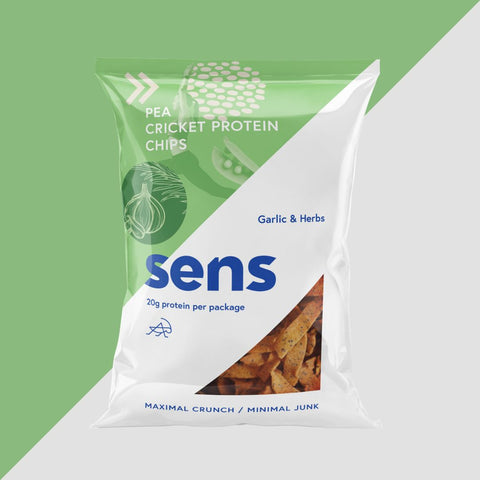 Mňam!
Skvělá chuť, dávám ráno ke snídani
Chutove je to skvelej produkt, se lzickou kakaa a maca root jeste lepsi. Snadno stravitelny👌
Mňam
Protein super, skvělá chuť, ráno ho mám místo snídaně. Ještě si tam tedy dávám navíc trochu Maccy. Shaker od vás je také super. Gratuluji a nyní jsem vaším stálým zákazníkem.
Výborné
Původně objednán čokoládový protein, bohužel došel, ale po rychlé domluvě poslán banánový. Vše v pořádku, shaker dodávaný k proteinu je z PP, vyrobený v Maďarsku. Překvapila mě vysoká kvalita plastu a zpracování. Určitě objednám znovu.