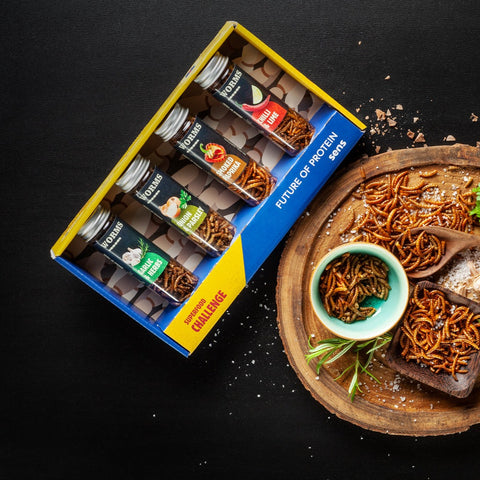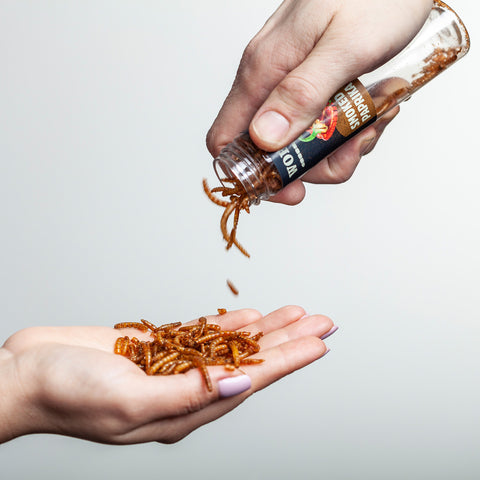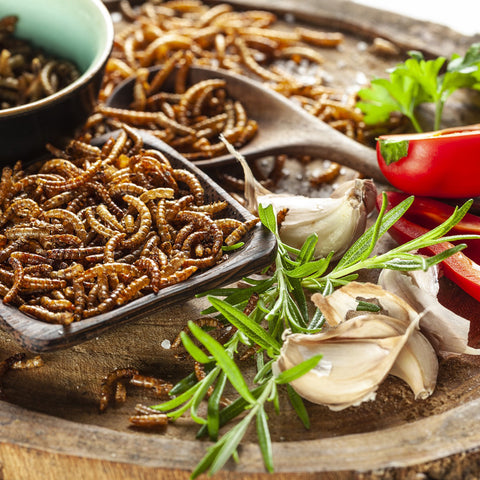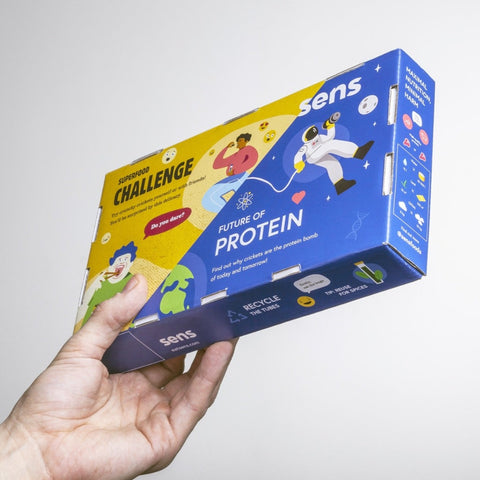 Limited Edition - Crunchy Worms Gift Set
The boldest gift under the tree. Try this crunchy challenge and decide if worms are the protein of the future.
🟠 Buy 2 = 10% discount, buy 4 = 25% discount
🚚 Free shipping EU on orders over 50€
⚡Available in Amazon




Crunchy worms as a challenge for the bravest
Next to the worms, our crickets do look like a delicacy. The worms are an experience for the truly adventurous. We guarantee that even the worms will surprise you with their taste. Sold in a limited edition. Just be brave!
Christmas gift that will stand out
Enough with the boring mugs and wool socks. It's time to give a gift that'll make a splash. Turn your Christmas Eve into a gourmet experience.
Taste experience in four spicy flavours
We've fine-tuned four fun flavors. You can try the classic garlic and the exotic flavour of chilli and lime. We've used only the finest natural spices. The flavours are connected with organic cold-pressed sunflower oil. Youĺl be talking about this experience for days to come.

GARLIC & HERBS, ONION & PARSLEY, SMOKED PAPRIKA, CHILLI & LIME
Designed to Have Fun
Practical see-through tubes helps anyone to join the experience. And somebody else can just start with reading the fun facts about insect eating on the box. Finished? Re-use the tubes as spice jars.
Crunchy worms and the finest natural spices





Crunchy insects with a big mission
In Sens, we are mainly believers of crickets but hey, worms are nutrotionally the same. Insects are a so-called alternative source of protein with minimal environmental impact. The same quality protein as the best beef. 100 times less CO2 production.

Join our gang of innovators. You'll be supporting fresh new ideas, one small ambitious young company and a healthier environment.
Frequently asked question
How to eat crunchy worms? How do crunchy worms taste?
The crispy worms have a slightly nutty and slightly buttery taste. You will taste mostly the spices. You can eat the worms instead of chips or nuts. You can also sprinkle the worms on salad or risotto.
Why are roasted crunchy worms a great gift with an interesting idea?
The hyped protein of the future is a great gift for all innovators today. But this gift is not just a tasty surprise. Crunchy worms are as good a source of protein as high-end beef, but use 2,000 times less water. At Sens, we're more into crickets, but at the request of our innovative gang of rebels, we came up with this crunchy challenge for the even more adventurous!
The worms are raised on a farm in a controlled environment. They have plenty of free space because they live in dense populations in the wild. No antibiotics are used in the feed. Before each harvest, the worms are cooled down and put into 'hibernation', much like insects that are exposed to cold weather in the wild during the winter. We consider insect farms to be the modern and sustainable farming of the future! At Sens, we are working on developing sustainable cricket farming ourselves.
Ingredients and nutritional table
1 tube = 15 grams (enough for 10 people trying worms)

GARLIC & HERBS - Ingredients: mealworms (tenebrio molitor) (87 %), organic cold-pressed sunflower oil, salt, garlic (2 %), onion, herbs (2 %) (thyme, rosemary, oregano, basil), rapeseed vegetable oil

ONION & PARSLEY - Ingredients: mealworms (tenebrio molitor) (87 %), organic cold-pressed sunflower oil, onion (2 %), salt, dextrose, yeast extract, parsley (0.5 %), garlic, black pepper, cumin, rapeseed vegetable oil

SMOKED PAPRIKA - Ingredients: mealworms (tenebrio molitor) (87 %), organic cold-pressed sunflower oil, organic paprika (3 %), sea salt, organic smoked paprika (1 %), organic onion, organic garlic, organic ginger, organic corn flour, organic yeast extract, organic white ground pepper, organic cumin, organic chilli (0.1 %)

CHILLI & LIME- Ingredients: mealworms (tenebrio molitor) (87 %), organic cold-pressed sunflower oil, sugar, salt, chilli (1.2 %), lime (1 %), yeast extract, paprika, natural aroma, acidity regulator: citric acid

People who are allergic to molluscs and crustaceans or dust mites may have an allergic reaction to worms.May contain traces of other nuts, sesame, soy and mustard.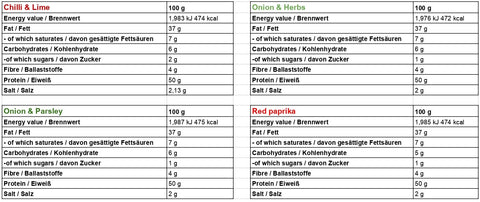 You don't have to stick to worms, try our main hit - crickets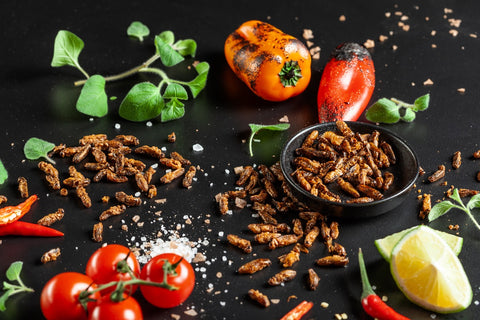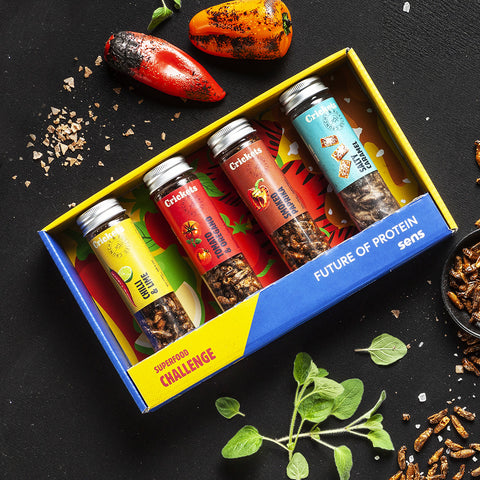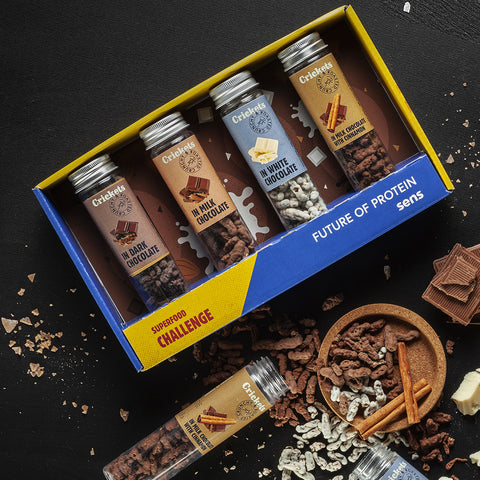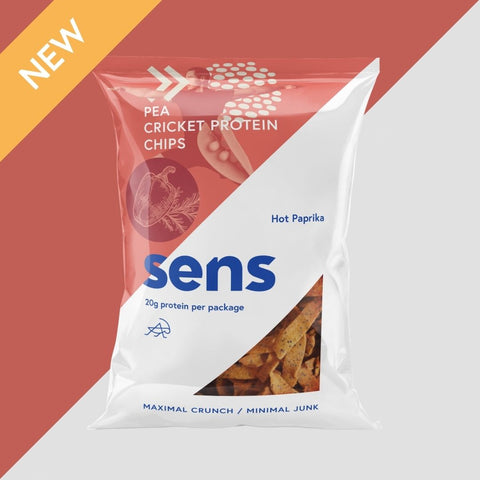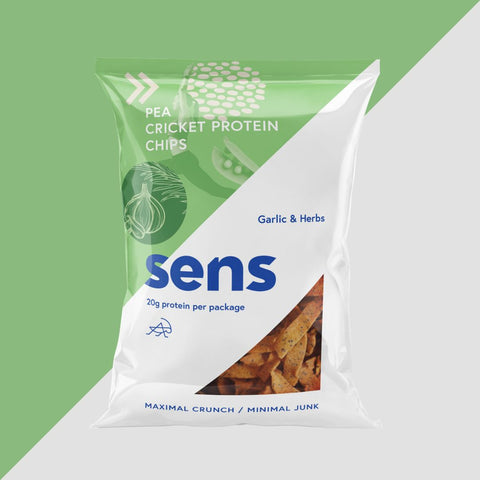 ???
Objednávka ještě stále nedorazila, takže hodnotit nemohu a Vaše výzva k tomuto kroku mi připadá dost vtipná!
Červíci
Zatím nemůžu hodnotit,červíky chystám jako vánoční překvapení pod stromeček. Už teť se ale na ně moc těším. Určitě dám později vědět jak nám chutnalo 😉
cvrčci
Už jsem objednával po druhé. Jen mě mrzí, že není příchuť česneková. Vřele doporučuji, je to mňamka.
Spokojenost,jen mě mrzí,že není příchuť česneková.
Very nom
While each can is small, I still prefer eating them by pouring plenty into my hand. The taste and crispiness really comes through that way.
červíci
Výborná ňamka. MOc si na pochutnávám.
Chutný a zábavný
Chutný a zábavný snack, vzal jsem do práce a všem moc chutnal. Akorát chilli s limetkou mi přijde, k mému překvapení, ve srovnání s ostatními třemi příchutěmi nějaká mdlejší. Cibule a petržel a Česnek a bylinky naopak mile překvapily zajímavou chutí na červících.
A great snack for our 3y old
"I want milk, dried apples, crickets and worms" and a bed time story. Well, this is what she gets. And she likes it.
AMAZING
So tasty! I still can't look at them when I eat (hahaah) but they are super tasty!
I am buying them to snack on regularly now 😁 I feel full after a tube or two ✌️✌️
Super delicious, and a fun party thing too. Recommend!
Křupaví červíci
Jsem spokojená. Dekuji za vaše jednání.