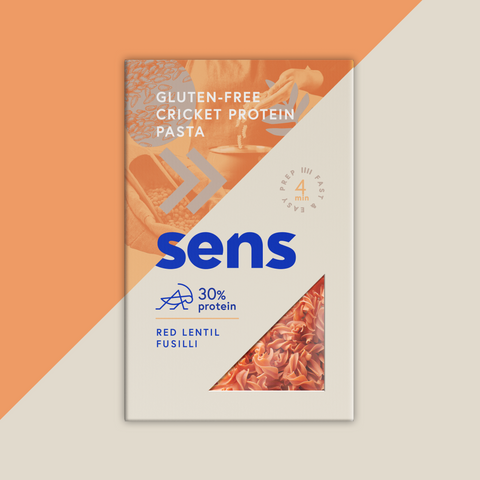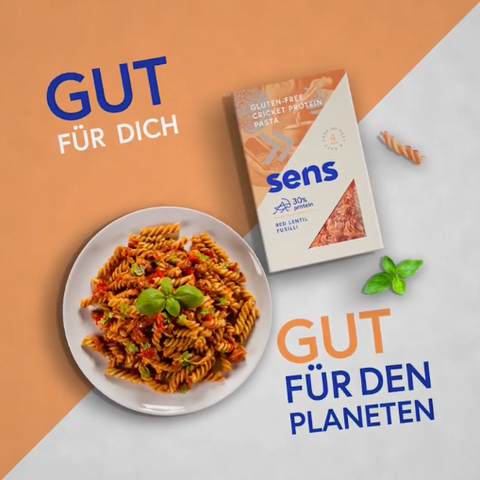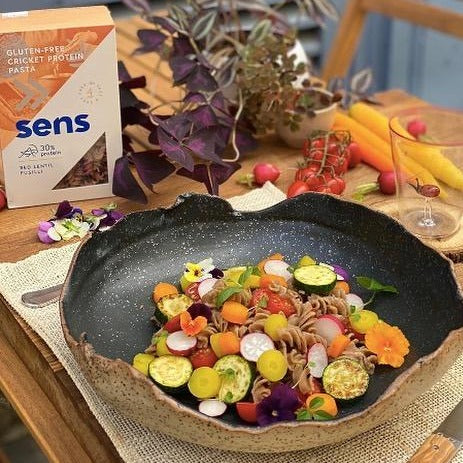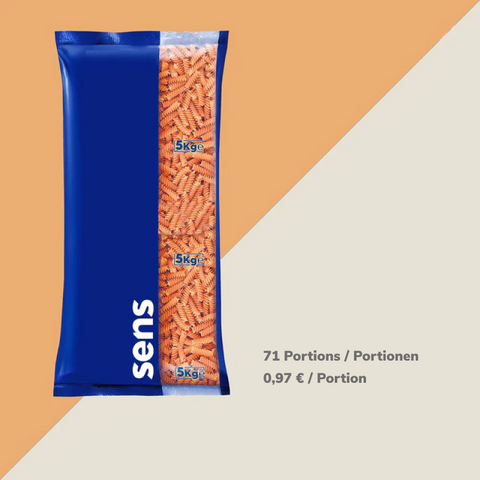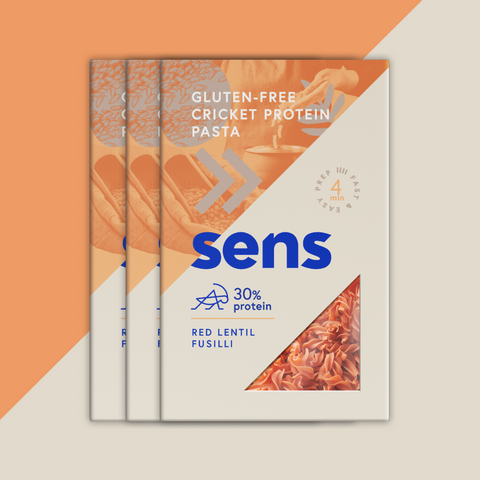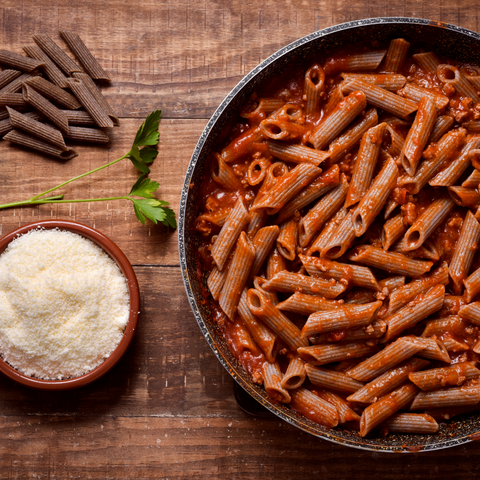 Cricket Protein Pasta
For people who want to enjoy easy pasta without the bad carbs that are normally in. Fully nutritious meal, 4 minute easy preparation.
Fusilli Protein Pasta is ideal for those who have food sensitivities or allergies, since it's 100% gluten-free. 
Our 5 kg pasta is a money saver: Get yourself a full meal for less than 1.00€ / meal.  

High-quality protein from the best source

Premium ingredients from natural origin

Balanced nutrients, both macro- & micro-

100% sustainable with minimal harm
Maximal pasta joy, minimal pasta junk
For people who want to enjoy easy pasta without any empty calories. Simply add sauce to your portion of pasta with 30g of protein.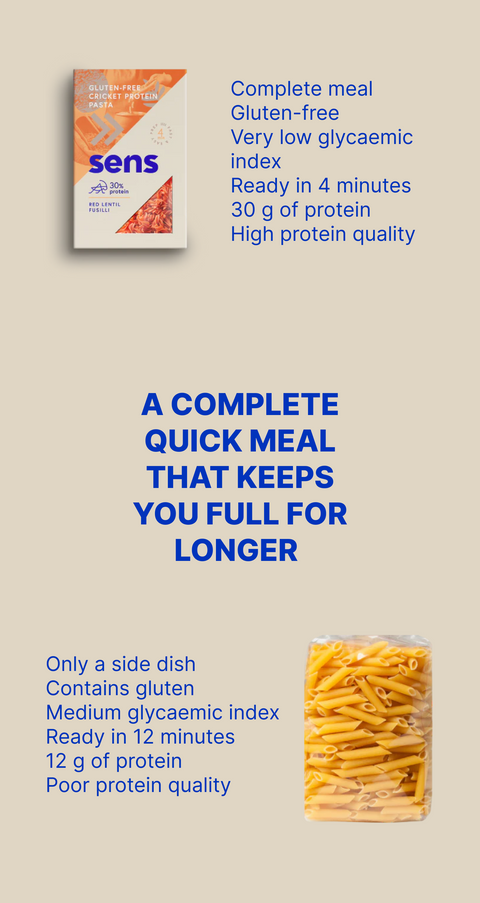 Reviews from already convinced innovators. Will you join us?
Sens is full of high-quality nutrients that do not harm the environment that I love so much.
Adam Ondra, World Champion Climber
Expect the unexpected. Sustainable protein and an excellent yummy taste.
Kim Komnenić, Fitness Coach & Influencer
Natural taste from ingredients you can understand


Frequently asked question
Why is sens GLUTEN-FREE pasta better than regular pasta?
Normal white pasta is full of simple carbs. As modern nutritionists agree, you should not eat those daily. If you are a pasta lover, there is a healthy alternative. Sens pasta is based on nutritious red lentils. Our pasta comes with no simple carbs and with an addition of the highest quality protein.
What does sens GLUTEN-FREE PASTA taste like?
You can get the full pasta experience without a guilty conscience. When combined with your delicious sauce, you will not be missing anything. Serve with anything that combines well with red lentil legumes. You can start with our tomato sauce recipe from the back of the pasta packaging PS: cricket protein only adds the nutritious boost and has no flavor.
How did we choose the ingredients to make this product?
We asked our fans to choose between semolina or gluten-free pasta. The result was clear and we started testing all kinds of pasta alternatives. We found the best flavor and texture when we combined cricket protein with red lentils. Maximal function, minimal overdoing.
Ingredients and nutritional table
GLUTEN-FREE RED LENTIL FUSILLI
Ingredients: red lentil flour (90 %),cricket flour(Acheta domesticus) (10 %).

Allergens: People who are allergic to mollusks and crustaceans or dust mites may have an allergic reaction to crickets. May contain traces of soy. Store in a dry place up to 25°C.

Why we also offer SEMOLINA PENNE pasta?
Many of you, our food rebels, also asked for a more traditional pasta approach. Hence, we sourced the highest quality semolina flour. Semolina is with gluten and this, like it or not, brings the one and only 100 % pasta experience to your sauces and further. We doubled the amount of cricket protein compared to our GLUTEN-FREE pasta because we wanted to have a similar amount of proteins in both. Now it is a simple and great pasta with sustainable meat inside. Maximal pasta, minimal compromises.
Ingredients and nutritional table
Semolina penne (with gluten)
SEMOLINA PENNE
Ingredients: semolina flour from wheat (80 %),cricket flour (Acheta domesticus) (20 %).
Allergens: Semolina flour contains gluten. People who are allergic to molluscs andcrustaceans or dustmites may have an allergic reaction to crickets. May contain traces of soy.
Store in a dry place up to 25°C.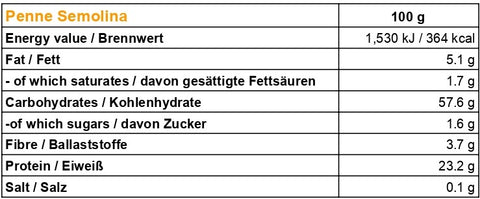 Sustainable protein
The same quality protein as high-end beef.
100x less CO2 produced.
Cricket protein is our innovative way to get
maximal nutrition with minimal harm.




Ideální pro horolezecké výpravy
Tyto těstoviny jsou idealni s rajčatový omáčkou, cvrčkovi moukou, případně s tunakem. Tento a podobné recepty si vaříme na našich výpravách do hor !
top
passen einfach immer ;) <3
Nejlepší těstoviny co jsem jedl
Protein těstoviny s cvrččím proteinem
Dodání i balení bylo skvělé. Chuťově se výrazně neliší od klasických čočkových těstovin, avšak mnohem více zasytí. V budoucnu nakoupím znovu.
Love it :)
Love it! Nice taste, perfect to go with everything you want!
I'd love to have the noodles also made out of peas and crickets ;)
GLUTEN - TĚSTOVINY
Našla jsem na krabičce značku 4 minuty - ale to bylo pro má bezzubá ústa málo. Dovařila jsem si je v omáčce a byly výborné, syté. Zase nová chuť, podobná celozrnné mouce. Alternativa, která se doma hodí. Děkuji.
Love them
By far the best protein pasta I tried. Also I am so grateful that all Sens products are gluten free, perfect for a celiac like me
Dobré přílohové těstoviny.
Doporučuji, výborné a hlavně bez lepku :)