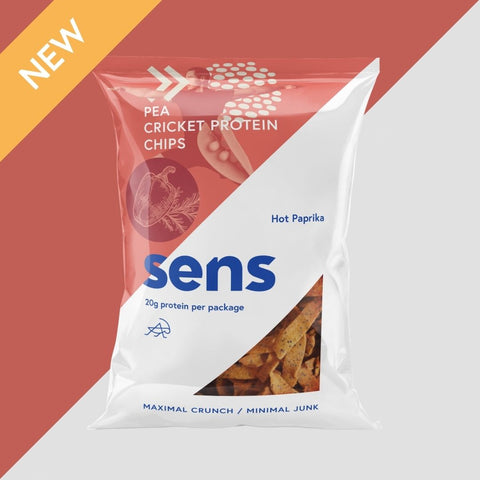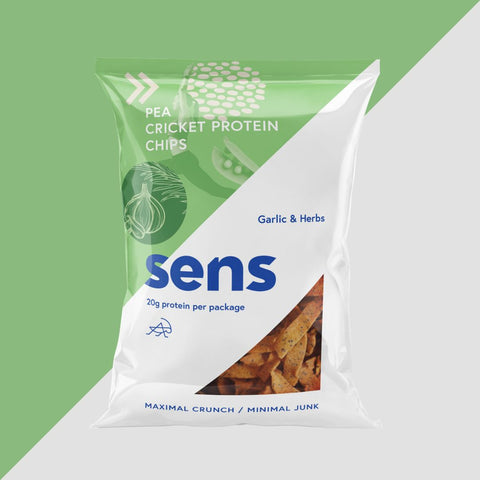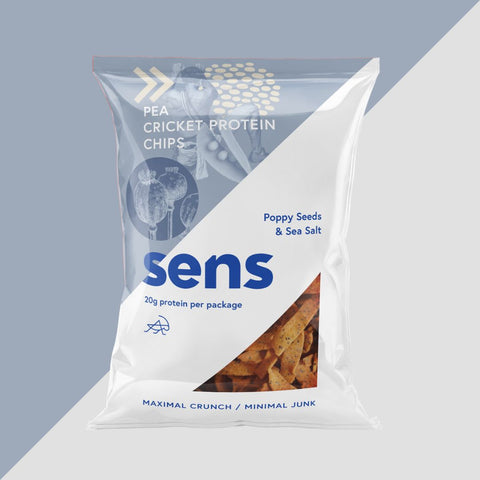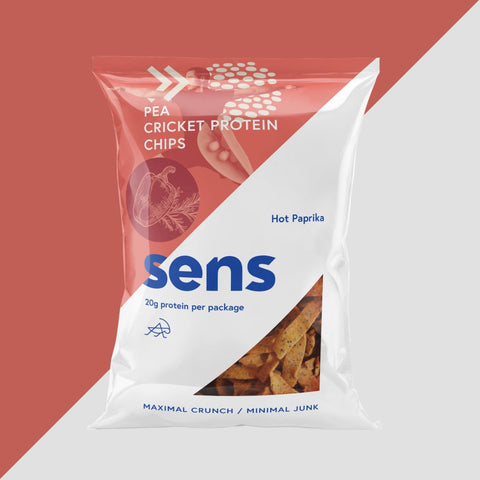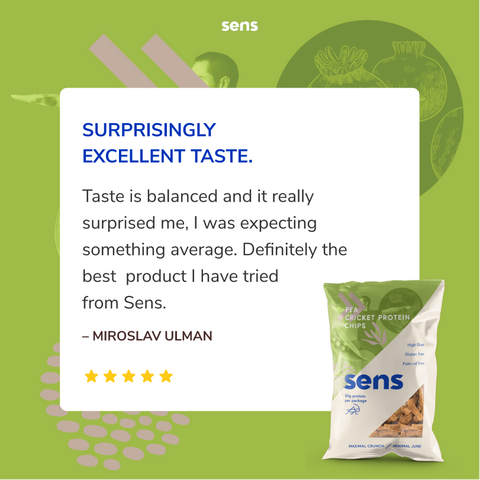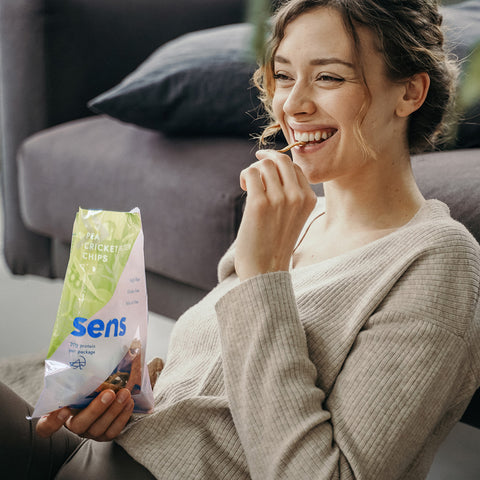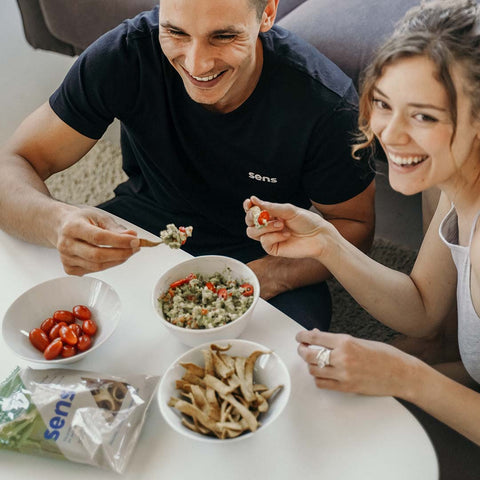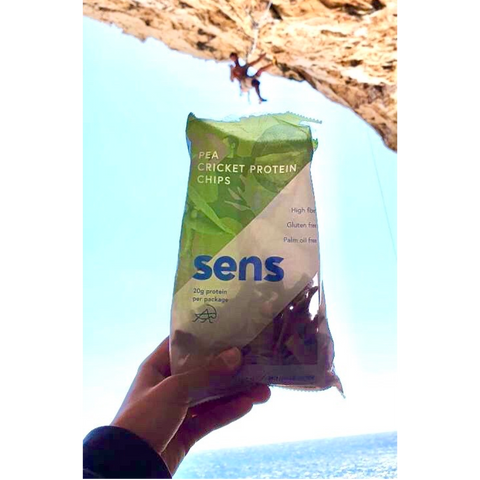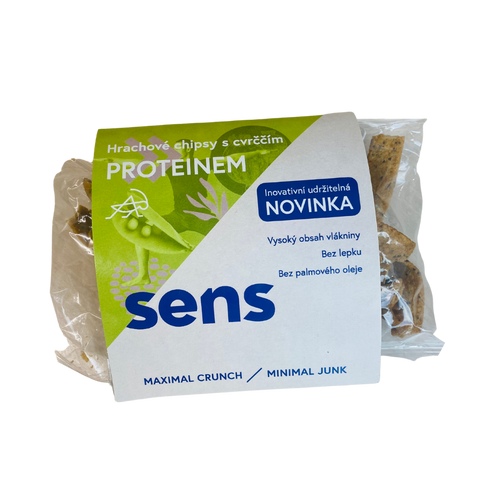 Pea Cricket Protein Chips
Savoury snack for TV & chill, busy work day or travels with 20g of high quality protein.

✓ 50% less fat in comparison to standard chips
✓ Rich in fiber
✓ Snack without guilt
📦 Free EU shipping from 50€
⚡Available in Amazon

High-quality protein from the best source

Premium ingredients from natural origin

Balanced nutrients, both macro- & micro-

100% sustainable with minimal harm
Maximal crunch, minimal junk
Savory snack for TV & chill, busy work day or travels. Full of flavor and more nutritious than regular chips. Our chips are also a great alternative to dip in Guacamole. Powered with 20g sustainable proteins per package.
Combi Deal
Get an extra 5% off when buying 2 or more 4-bag packs. Discount code: 6KZV36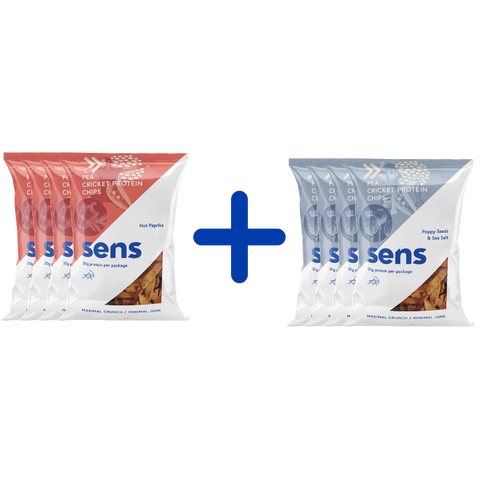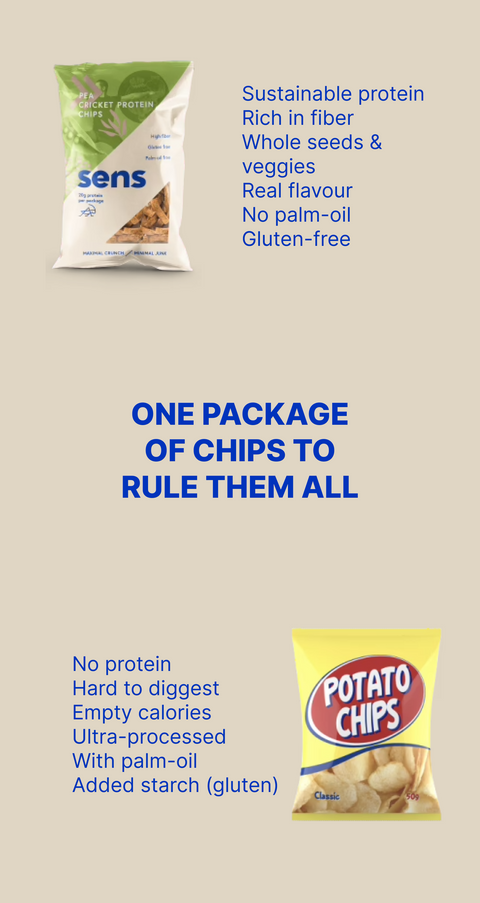 Reviews from already convinced innovators. Will you join us?
Sens is full of high-quality nutrients that do not harm the environment that I love so much.
Adam Ondra, World Champion Climber
Expect the unexpected. Sustainable protein and an excellent yummy taste.
Kim Komnenić, Fitness Coach & Influencer
Natural taste from ingredients you can understand






Frequently asked question
Why are the sens protein chips better than regular chips?
A standard bag of potato chips is a bag of empty calories. They are high in calories, fat and sodium but are low in everything else. As a result, you only get hungry even after consuming a bunch, and with its addictiveness… better hide that bag somewhere. Sens protein chips on the other hand have 20g of high-quality protein packed also with 8g of fiber. They are nutritionally balanced while still flavourful and addictive as normal chips. We also don't use any low-quality oils or palm oil.
What do the sens protein chips taste like?
The reviews from you were almost too good! Balanced taste, ideally salty and of course crunchy and right crispy. Great party snack with friends or as a meal snack with spreads. PS: cricket protein adds a nutritious boost without affecting the flavor of our chips.
How did we choose the ingredients to make this product?
Obviously, these are not potato chips. We have something much better - pea. This super nutritious legume is combined with poppy seeds for additional flavor. Next, we add only natural and flavourful spices to round the taste experience. And yeah - salt, but at least salt as possible but still salty enough that you will like it. Maximal fun, minimal empty calories.
Ingredients and nutritional table
Ingredients protein chips (Poppy seeds): Pea flour (76%), cricket flour (Acheta domesticus) (10%), poppy seeds (7%), sunflower oil, corn flour, sea salt, carrot, onion, yeast extract, parsley, mixed herbs.
Ingredients protein chips (Garlic): Pea flour (75%), cricket flour (Acheta domesticus) (10%), garlic (7%), sunflower oil, herbs (3.2%) (wild garlic, paprika, satureja, basil, pepper, oregano, thyme), potato starch, yeast extract, salt.
Ingredients protein chips (Hot pepper): Pea flour (75%), cricket flour (Acheta domesticus) (10%), chili pepper (4.7%), sunflower oil, beetroot, satureja, garlic, basil, pepper, oregano, thyme, potato starch, yeast extract, salt.
Allergens: People who are allergic to molluscs and crustaceans or dust mites may have an allergic reaction to crickets. May contain traces of soy.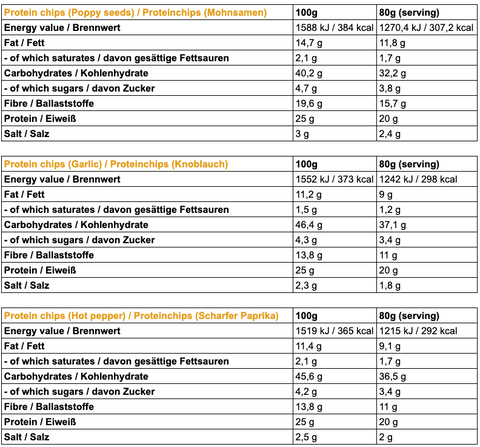 Sustainable protein
The same quality protein as high-end beef.
100x less CO2 produced.
Cricket protein is our innovative way to get
maximal nutrition with minimal harm.




Proteinové chipsy s cvrččím proteinem
Dobrý den, vynikající, křupavé, vhodnější než smažené brambůrky.
Jenom cena by se mohla ještě posunout dolů, aby přednosti těchto produktů ochutnaly zástupy člověčenstva.
Nejvice mi chutnaji chipsy, všschny druhy
Rychle doručeni, kvalitní zabalení.
Toller Snack für zwischendurch
Die Grillen-Chips sind steter Begleiter bei unseren Ausflügen und dürfen bei einem Picknick bei Wanderungen nicht fehlen. Meine Kinder mögen sie sehr.
"Scharfe Paprika" ist wirklich sehr scharf und geschmacksintensiv. Mir persönlich etwas zu sehr.
"Mohnsamen & Meersalz" ist unser Favorit :-)
sens cvrččí chipsy hot paprika
Výborné cvrččí chipsy, jemně pikantní, křupavé, koupila jsem poprvé, ale už vím, že ne naposledy, návyková záležitost
Sehr lecker die Chips. Und man hat das Gefühl, was Gesundes zu essen. Immer wieder gerne. Auch die anderen Produkte von Sens kaufe ich regelmäßig und gerne.
Skvělá svačina
Oblíbeny kousek, při kterém nemusíme mit výčitky, ze jíte chipsy!
Proteinové chilli chipsy SENS
Jemně pálivé, křupavé, skvělá varianta mlsání i z výživového hlediska! Nebojte se ochutnat 👍
Best snack
It tastes too good to stop eating before one finishes the whole pack :)
Pikantní paprika
Vyzkoušel jsem a nepoznám rozdíl mezi podobnými v hrášku apod. Chuťově moc dobré a pokud to trochu pomůže přírodě, tak proč ne :)
Za mě palec hore ;)