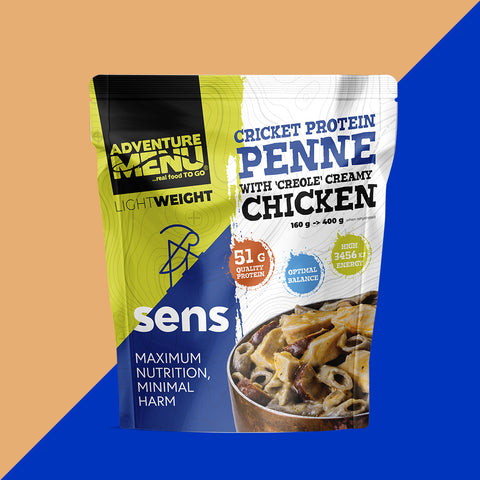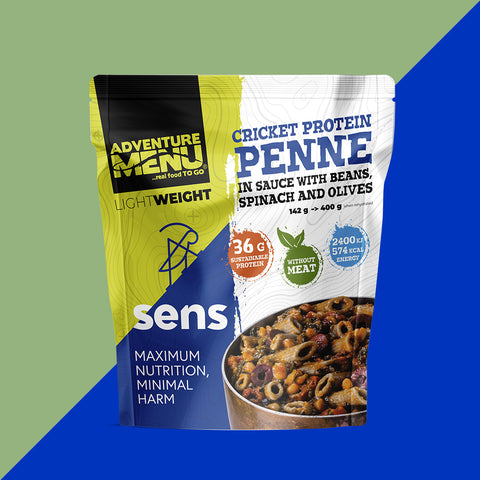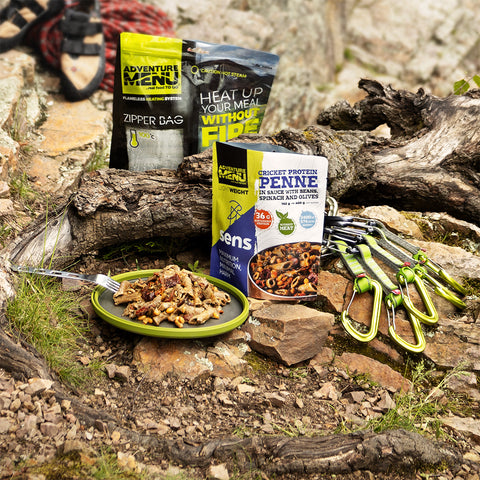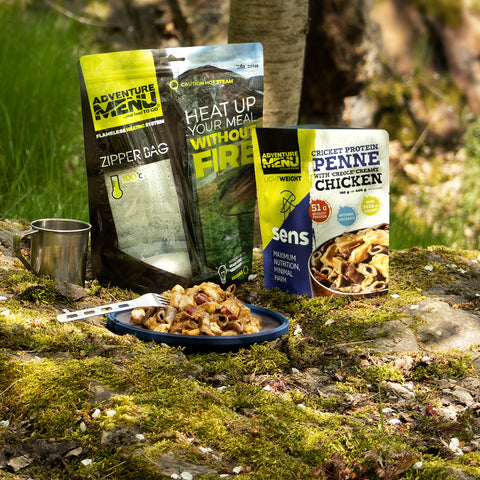 Ready-to-Eat Outdoor Meal with Cricket Protein Penne
At Sens, we have teamed up with partners from Adventure Menu. Together, we bring the first travel food with sustainable protein. Only natural ingredients that we have freeze-dried. Just pour in hot water and you have a high-quality meal anywhere. Ideal for camping, climbing, hiking, yachting, fishing and many more outdoor activities
✓ From excellent natural ingredients
✓ Full of sustainable proteins
✓ Ready in 8 minutes just with hot water 
🚚 Free shipping EU orders over €50

High-quality protein from the best source

Premium ingredients from natural origin

Balanced nutrients, both macro- & micro-

100% sustainable with minimal harm
Maximum taste, minimum weight
Are you going on an expedition and want to eat like in the best restaurant? We have cooked for you purely from natural ingredients. And our friends from Adventure Menu used their own vacuum drying technology and made this awesome ready-made meal! Just pour in hot water and enjoy uncompromisingly delicious food anywhere!
Cricket penne with beans, spinach, and olives
The basis of the meal is semolina penne pasta with cricket protein. We supplemented these pasta full of high-quality proteins with a vegetable sauce made of beans, spinach, and olives with Parmesan cheese. We were inspired by typical Mediterranean flavors.
2x more protein than other vegetarian meals!
With chicken meat in Creole sauce
A delicately spicy creamy sauce complements this extremely nutritious meal. For the first time in Sens history, we reached for select chicken meat. This adds even more protein to the Sens pasta with cricket protein. The taste is traditionally complemented by Parmesan, paprika sausage, and natural spices such as thyme, oregano, or pepper.
Up to 51g of protein per serving!
A meal at the best restaurant in 8 minutes


Up to the indicated notch, stir, refill the water

Reviews from already convinced innovators. Will you join us?
Sens is full of high-quality nutrients that do not harm the environment that I love so much.
Adam Ondra, World Champion Climber
Expect the unexpected. Sustainable protein and an excellent yummy taste.
Kim Komnenić, Fitness Coach & Influencer
Frequently asked question
How did the connection between Sens and Adventure Menu come about?
We have been following the guys from Adventure Menu for a long time and we know that they are as uncompromising in their approach to food as we are. This food to be poured with hot water will surprise everyone. Just taste it. Together, we have prepared a world novelty with sustainable cricket protein. Try it!
What does the pour-over travel food taste like?
All you really need to do is pour hot water, wait a while and you are eating in the best restaurant. The best restaurant is nature itself. And so, you can have a great tasting and extremely nutritious meal with our cricket protein anywhere. You will see that you will be pleasantly surprised by our travel food.
How did we select the ingredients?
The development of our joint product with Adventure Menu took 2 years. We first had to develop new pasta that would carry our cricket protein. It was not easy. We chose classic semolina pasta (note, they contain gluten). These served as the basis of the meal. In the otherwise vegetarian version, we were inspired by the taste of the Mediterranean and added quality additional vegetable ingredients with Parmesan cheese.
For the first time under the Sens brand, you will also find another animal product - in the version with chicken meat you will find cream and paprika sausage. Here we gave freedom to Adventure Menu, who care about the quality of ingredients and farm quality ingredients.
Ingredients & Nutritional Values
Cricket protein penne in sauce with beans, spinach and olives. Ingredients: Sens pasta (28 %) (semolina (80 %), cricket flour (Acheta domesticus) (20 %), passata (18 %), spinach (18 %), white beans (13 %), onion, kalamata olives (4 %), Parmesan cheese (milk, rennet, salt), dried tomatoes, rapeseed oil, garlic, salt, pepper.
Cricket protein penne with "creole" creamy chicken. Ingredients: Chicken breast (26%), SENS pasta (25 %) (semolina (80%), cricket flour (Acheta domesticus) (20 %)), cream, paprika sausage (pork, salt, paprika, caraway, garlic), onion, Parmesan cheese (milk, rennet, salt), corn flour, rice flour, olive oil, salt, parsley, sweet paprika, garlic, white pepper, oregano, thyme, basil, pepper.
Allergens:
Gluten, lactose. People who are allergic to mollusc and crustaceans or dust mites may have an allergic reaction to crickets.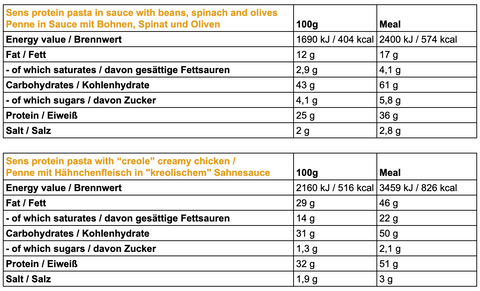 Sustainable protein
The same quality protein as high-end beef.
100x less CO2 produced.
Cricket protein is our innovative way to get
maximal nutrition with minimal harm.




Train, create, eat, repeat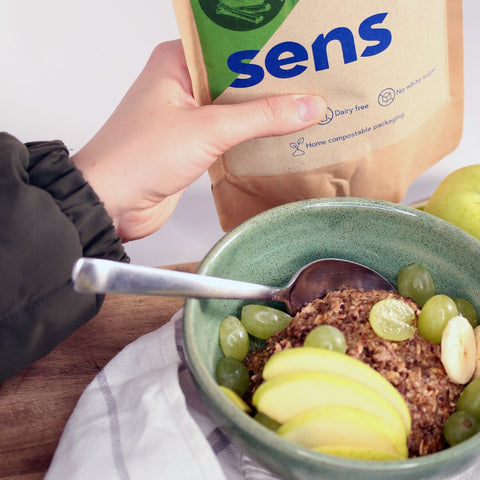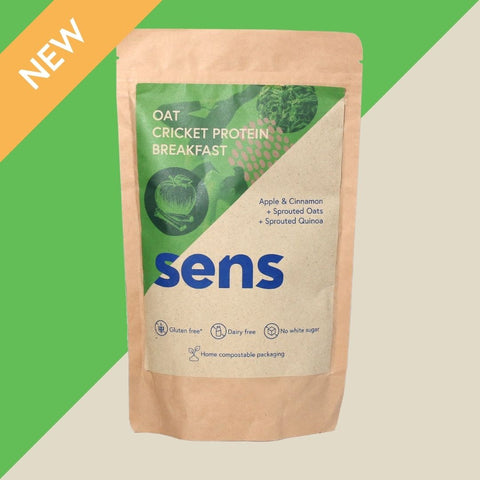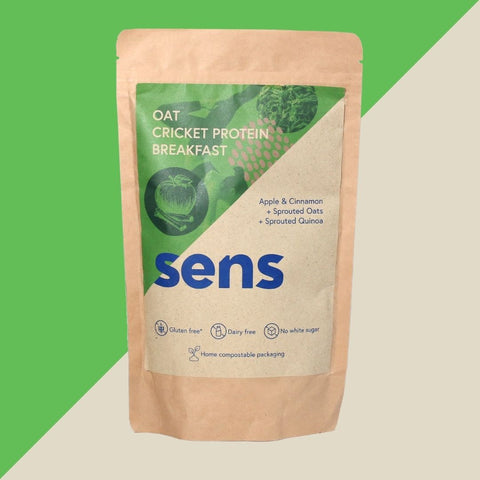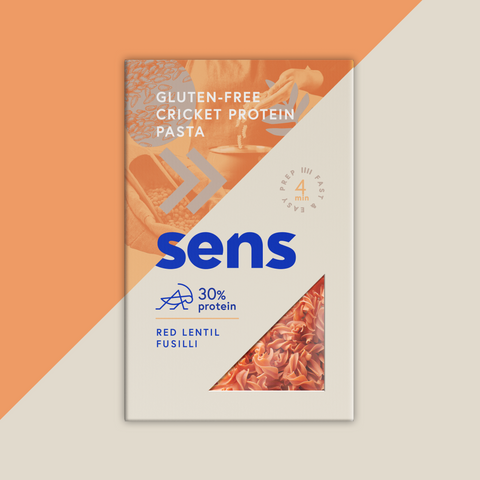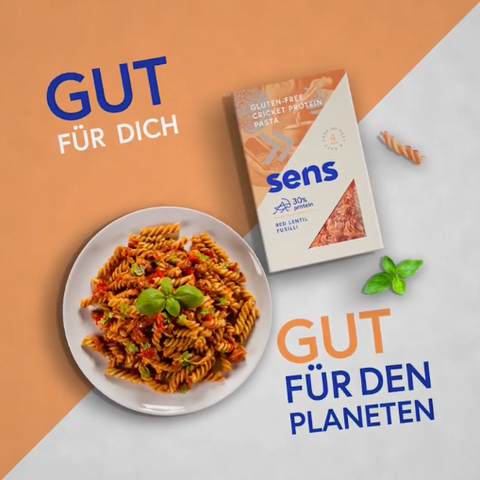 On Sale from CHF 5.00
CHF 2.50 / 100g
Pěkné se zeleninou
Skvělý nápad na komplexní řešení nejen obsahu, ale i obalu. Chuť zvýrazněná sušenými rajčaty je příjemná. Praktické je umožnění zalit a uzavřít v obalu, stejně tak minimální rozměry sáčku díky smrštění obalu. Toto jídlo si určitě ještě objednám.
Jídlo na cesty s těstovinami s cvrččím proteinem
Vynikající jídlo do hor. Vřele doporučuji !!!!